Build Your Career In Cybersecurity | Live Questions And Answers Session With Mohit Yadav
May 15, 2021
2023-05-11 18:15
Build Your Career In Cybersecurity | Live Questions And Answers Session With Mohit Yadav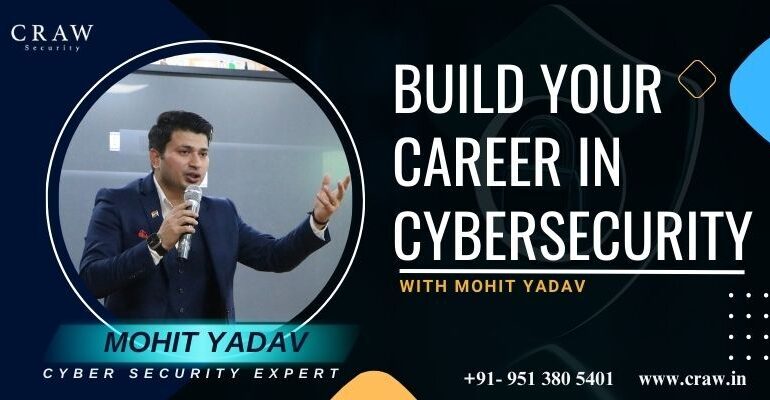 Build Your Career In Cybersecurity | Live Questions And Answers Session With Mohit Yadav
There are several career paths available in the interesting and quickly expanding sector of cybersecurity.  A person willing to undergo a wholesome cybersecurity training course in India can opt for Craw Security, India's best cybersecurity training institute in India.  In addition, Craw Security is offering you a chance to explore several career paths in cybersecurity, such as the following:
Cybersecurity Analyst,
Penetration Tester,
Ethical Hacker,
Security Engineer,
Security Consultant,
Cryptographer,
Cybersecurity Lawyer,
Chief Information Security Officer (CISO), etc.
How to Build a Successful Career in Cybersecurity?
An effective job in cybersecurity demands a blend of hard skills, expertise, and technical abilities.  The following actions will help you develop a lucrative career in cybersecurity:
Get educated with a great course like 1 Year Diploma in Cyber Security Course by Craw Security.
Develop technical skills.
Stay up to date.
Gain practical experience.
Build a network with fellow cybersecurity professionals.
Develop soft skills.
Consider specializing in a specific field in cyber security rather than going for the entire knowledge atonement.
Top Cybersecurity Certifications to Boost Your Career
There are a number of cybersecurity certifications that might advance your professional standing.  The ones that follow are a few of the top certifications that are well-respected and acknowledged in the field of cyber security:
Certified Information Systems Security Professional (CISSP),
Certified Ethical Hacker (CEH) v12,
1 Year Diploma in Cyber Security Course by Craw Security.
Certified Information Security Manager (CISM),
CompTIA Security+,
Certified Cloud Security Professional (CCSP),
Offensive Security Certified Professional (OSCP), etc.
Essential Cybersecurity Skills for a Successful Career
To succeed in the world of cybersecurity, one needs to possess a wide range of skills.  The following are some crucial cybersecurity abilities that you'll need if you want to succeed in the field of cybersecurity:
Technical skills
Risk management
Communication skills
Problem-solving skills
Attention to detail
Analytical skills
Continuous learning
Top Cybersecurity Tools Every Professional Should Know
Most working-class cybersecurity professionals use a variety of cybersecurity tools to functionalize many operations in the wide procedures of cybersecurity to protect computer systems and networks.  In addition, some of the top cybersecurity tools every professional should know are mentioned below:
Nmap,
Wireshark,
Metasploit,
Nessus,
Snort,
Malwarebytes,
OpenVAS,
Aircrack-ng,
GnuPG,
OpenSSL, etc.
Is a Cybersecurity Degree Worth It?
With a variety of factors, including your job ambitions and unique situation, a cybersecurity degree may be worthwhile.  When considering if a cybersecurity degree is worthwhile, take into account the following factors:
| | |
| --- | --- |
| Career aspirations | A degree in cybersecurity can be useful if you want to work in the field as an Analyst in cybersecurity, security engineer, or security architect. Individuals with appropriate degrees are frequently preferred by employers since they show a level of expertise and devotion to the area. |
| Industry demand | The need for cybersecurity experts is great and is only getting stronger.  The Bureau of Labor Statistics projects that between 2019 and 2029, jobs in information security will increase by 31%, which is significantly greater than expected for all occupations.  Your prospects of finding employment and making higher pay can increase if you have a degree in cybersecurity. |
| Curriculum and program quality | It's crucial to investigate the educational offerings and overall standards at the institutions you are interested in while considering a cybersecurity degree.  To ensure you have the abilities you need to excel in the area, seek out programs offering practical instruction and hands-on experience. |
| Cost and time commitment | It might be costly and lengthy to pursue a degree in cybersecurity.  It's critical to consider the course's duration and fees, as well as the anticipated return on investment regarding job prospects and earning potential. |
The Best Cybersecurity Training Programs for Beginners
Beginners can choose from a wide variety of cybersecurity training programs, from completely free online classes to specialized boot camps.  However, these courses are meager, only designed to take your datasets so that they can pitch you the actual expensive courses afterward.
In this context, Craw Security, the best cybersecurity training institute in India and many other countries offers you the chance to select the best cybersecurity training programs for beginners with no hidden charges.
As a result, any individual willing to make an outstanding career in cybersecurity can opt for Craw Security's top-notch training in 1 Year Diploma in Cyber Security Course.
How to Land Your Dream Cybersecurity Job?
Finding your ideal cybersecurity position can be difficult, but it is achievable with the correct preparation and strategy.  To do this, Craw Security is your heartiest companion that will provide you with the necessary details by which you can land your dream cyber security job hassle free.
In this regard, some of the main tips that will certainly assist you in landing your dream cybersecurity job are mentioned below:
Identify your career goals,
Develop your skills,
Network with professionals,
Tailor your resume and cover letter,
Prepare for interviews,
Be persistent,
Ace Your Cybersecurity Job Interview
Getting ready for a cybersecurity job interview may make you feel at ease and improve your probability of getting the job.  The following advice will help you succeed in your cybersecurity job interview:
| | |
| --- | --- |
| Research the company thoroughly | Before the interview, do some research about the business to become familiar with its goals, core principles, and specific job duties.  This will enable you to address the firm in your reply better and show that you are interested in the role. |
| Review common interview questions. | Examine typical interview inquiries about cybersecurity, such as inquiries about your background, technical expertise, and capacity for problem-solving. Prepare yourself to provide particular instances and a detailed explanation of your abilities and experience. |
| Practice your responses | Practice your answers to the interview questions with a friend or mentor.  You'll sound more articulate and assured as a result of the real interview. |
| Showcase your technical skills. | During the interview, be ready to present your technical expertise.  This can entail describing specific assignments you've worked on, delineating technical ideas, or resolving technical issues. |
| Highlight your soft skills. | In addition to technical skills, soft skills like interaction, teamwork, and problem-solving abilities are crucial in the subject of cybersecurity.  Prepare yourself to provide evidence of how you've used these abilities in prior positions. |
| Dress professionally | To give an excellent picture during the interview, dress appropriately. Even if the employer has a casual dress policy, it's crucial to dress properly for the job interview. |
| Follow up after the interview. | After the interview, acknowledge the person who interviewed you for their participation and reiterate your interest in the job with a note of appreciation or email. |
Cybersecurity Salary Guide: How Much Can You Earn?
There is a big need for qualified people in the constantly expanding industry of cybersecurity.  Location, job title, and expertise are just a few variables that might affect a cybersecurity personnel's pay grade.  Based on information collected from a variety of resources, the following is a broad overview of cybersecurity salaries:
| | |
| --- | --- |
| Cybersecurity Professional Group | Pay Grade (in INR ₹) |
| Entry-level cybersecurity professionals | INR 3-6 lakhs per year |
| Mid-level cybersecurity professionals | INR 6-12 lakhs per year |
| Senior-level cybersecurity professionals | INR 12-25 lakhs per year |
| Chief Information Security Officers (CISOs) | INR 50 lakhs to 1 crore per year |
Cybersecurity Job Outlook: What You Need to Know
The cybersecurity job outlook is expected to grow rapidly, which bodes well for job prospects.  What you should know about the job outlook in cybersecurity is as follows:
High demand for cybersecurity professionals.
Lower the skill gaps that are required for cybersecurity experts.
Various job roles are there in the diverse field of cybersecurity.
Competitive salaries that are not possible to see anywhere else.
Education and certification requirements.
Remote work opportunities.
FAQs
About Career In Cybersecurity
1: How to start a career in cyber security with no experience?
By joining a highly qualified cybersecurity course, you can start a career in cybersecurity with no experience.  In this regard, Craw Security is the best option that you can take in India.
2: Is IT good to start a career in cyber security?
Yes, since cybersecurity has all the benefits, like a higher pay grade, good work-life balance, and many other advantages, one can start a cybersecurity career without any second thoughts.  Moreover, if you wish to join a course in cybersecurity, you can do it at Craw Security, the best cybersecurity training institute in India.
3: Can I change my career to cyber security at 40?
There is nothing that a person cannot do if one makes a proper determination for the same.  Moreover, Craw Security, the best cybersecurity training institute in India, is there for your help.  Craw Security will certainly make you suffer less and understand more about the varied fundamentals of cyber security under a world-class training instructor with many years of authentic experience.
Wrapping Up
In the bottom line, we would like to say that various factors can certainly assist you in building an amazing career in cybersecurity with the help of proactive mentorship.  In this context, Craw Security is the best cybersecurity training institute in India that offers world-class training under the guidance of experienced trainers.  Call +91-9513805401 to know more about the same.