Best Python Certification Course in Delhi [Updated 2023]
October 14, 2021
2023-05-02 12:25
Best Python Certification Course in Delhi [Updated 2023]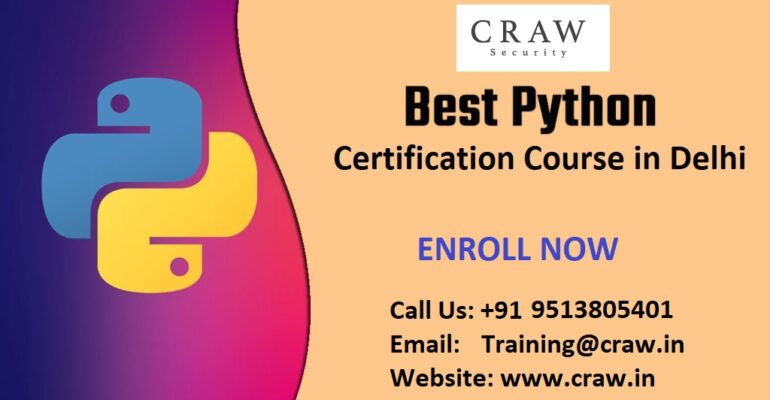 Best Python Certification Course in Delhi [Updated 2023]
Python Certification Course will introduce students to several programming techniques that are essential for coders to develop apps and software. Well, in today's cyber world, python is one of the most popular computer programming languages.
Then you should get to know this language as a career option. Most students from a very young age keep in mind that they want to be professional programmers. Moreover, they used to get information about these skills from several options available.
Some of them are Blogs, Articles, News, Ebooks, Youtube Content, and at last, a certification course. If you're one of the aspirants who have the heart to acknowledge the skills and potential of Python programming, you can start your career with a Certification Course at best.
But first, you need to understand why this course benefits Programmers. For that, you need to read this blog.
Python Course for Beginners
If you want to know what's the best Python Course for Beginners, you can just join the Python Language Course. This course is specially designed and organized in a way to let the students clear their doubts on each & every query/ point. You must be thinking about what kind of tools the Python Developers use, then some of the tools are as follows:
PyCharm IDE
Jupyter Notebook
Keras
Pip Package
Python Anywhere
Scikit-Learn
Sphinx
Selenium
Python Certification and Training Institute in India
One of the Best Python Certification and Training institutes in India is Craw Security. That's because, in terms of the learning environment, Craw Security has always cared about the students must understanding of the whole concept theoretically and practically, respectively.
Moreover, with the team of Professional Programming Instructors offered by Craw Security, students can complete the course within a short span of time. Also, their doubts will not be left uncleared in an uneven situation. So, students can definitely join the Craw Security Training Institute.
Now, if we talk about the students who want to get the Best Online Python Course with Certificate, then they can also contact Craw Security with no doubts. Students will definitely get the Python Online Course Certification after completing the course, well enough.
Python Course Eligibility
Several students have already enrolled for the Python Course after 12. Then if you have passed 10th or above 12th, you can apply for this course. Most importantly, to get the best learning environment, you can join Craw Security.
Python Course Duration and Fees
Course Duration: 60 Hours
Course Level: Intermediate
Course Delivery: Online/ Offline
Language: Hindi, English
Contact: +91 9513805401
Several institutes are paying attention to enrolling students just to show that they are the most popular course provider. However, when it's about making a proper plan to teach students in a way that they can understand the theory and practicals properly, they forget to do so.
They only focus on making money and completing the course ASAP. In this way, they try to compromise with students' futures. To keep that from happening, the students can contact Craw Security because they're professionals in handling the syllabus speed and keeping records on whether the students' doubts are cleared or not. Moreover, they provide the Python Certification Course on a pocket-friendly budget.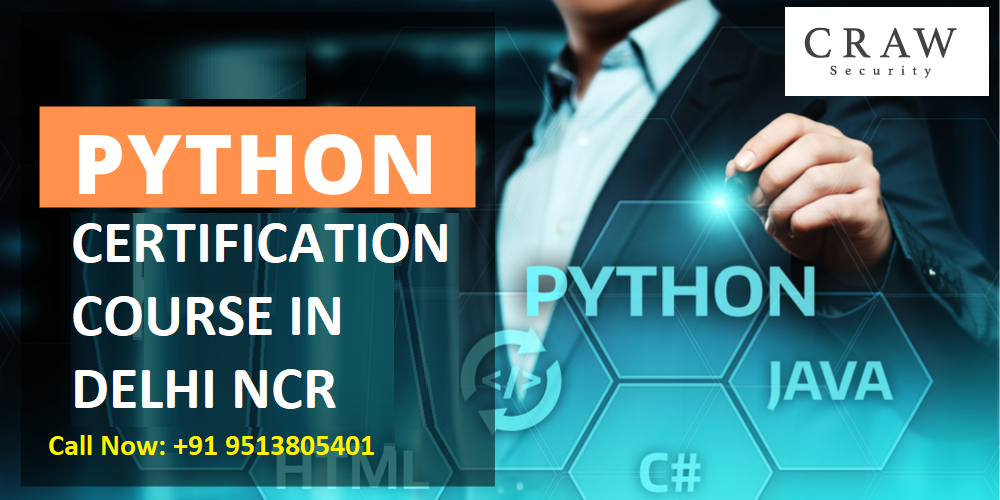 Frequently Asked Questions for Python Certification Course
1. Which certification is best for Python?
You can go for the Python Language Course offered by Craw Security. Craw Security has been in the Cyber Security Industry for a long time. This Python Certification Course offered by them has all of the things that an aspirant who wants to learn Python needs to achieve his personal gains.
2. How much does Python certification cost?
Well, Superstition is a different matter. Here you are trying to learn something where discipline is necessary. Other institutes may offer you this course at a high price where Craw Security understands Students' paycheck issues. So, we provide this Python Certification Course on a totally pocket-friendly budget. Thanks to this, they can continue to grow in the field of "knowledge."
3. Can you get a certification in Python?
Well, you'll meet several institutes that may not offer certification for Python Language Courses. In most cases, you'll face something like this. But if you connect with Craw Security, you will definitely get a Certification for the Python Certification Course.
4. Which certification is best for Python free?
There are several certifications available online for Python free, and you can definitely go for them. However, you may not know that some of those certifications are not legally accepted. That's the reason you should go for a legalized Python certification course offered by Craw Security. This certification is legalized in several organizations, so you don't need to worry about losing the opportunity for a job.
5. Is Python certification hard?
Views and skills matter. If you want to learn something, you need to be fully dedicated. So, if you're optimistic and passionate about learning Python with the Python Certification Course, then you don't need to be afraid of learning this Course. Also, after getting help from Professional Trainers at Craw Security, you'll be able to gain knowledge faster and with ease.
6. Is a Python certificate worth IT?
Worldwide several Professionals have made their way into the Coding Profession after getting this Python Certification Course. You can become a Professional Python Programmer after being certified with this Certification. Also, several MNCs are offering jobs for innumerable coders. So, you need to grab this opportunity.
7. What job can I get with a Python certification?
You can fill out several respective designations after completing Python Certification:
Software Engineer
Python Developer
Research Analyst
Data Analyst
Data Scientist
Software Developer
8. How long does Python certification take?
The duration of the Python Certification Course is 60 Hours. However, it'll depend on the learning speed and knowledge-grabbing skills of the students. Also, how fast they'll finish learning. With the best-qualified trainers provided by Craw Security, students will get the best learning environment.
09. Is Python good for placements?
Definitely, after completing the Python Certification Course offered by Craw Security, you'll be getting several high-paid Job Letters. Then you can join any organization to develop your skills and technical knowledge.
10. How can I get certified in Python?
You just need to contact a reputed institution like Craw Security so that you can join the Python Certification Course. This course will introduce you to several programming techniques and tools that will help you to become a professional coder yourself. Not only that, you can ask for online sessions if you're not comfortable with offline classes.