Best OSCP Training Institute in India: Unleashing Your Cybersecurity Potential
July 8, 2023
2023-08-28 15:14
Best OSCP Training Institute in India: Unleashing Your Cybersecurity Potential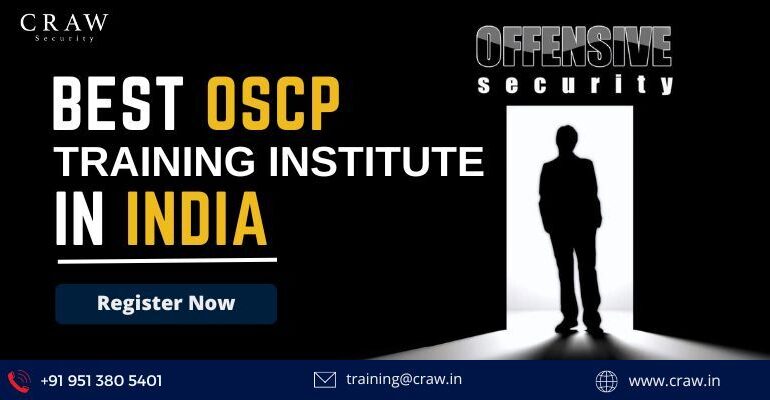 Best OSCP Training Institute in India: Unleashing Your Cybersecurity Potential
Best OSCP Training Institute in India
Are you enthusiastic about cybersecurity and ready to enhance your abilities?  The top OSCP (Offensive Security Certified Professional) training facilities in India are your only option.  An OSCP certification can lead to intriguing job options, given the rising demand for cybersecurity specialists in today's digital environment.
In this article, we will try to look at the Best OSCP Training Institutes in India that may provide you with the world-class classroom education and real-world experience that you sincerely require to succeed.
Introduction to OSCP Certification
In the cybersecurity field, the Offensive Security Certified Professional (OSCP) certification is highly regarded. It is provided by Offensive Security, a renowned supplier of practical training in ethical hacking and penetration testing. The OSCP certification certifies a person's competence in spotting vulnerabilities, taking advantage of them, and successfully administering penetration testing engagements.
Importance of OSCP Training
Rigorous training and real-world experience are needed to become an OSCP-certified professional.  Participating in a recognized OSCP training program gives you access to extensive learning resources and professional advice.  The OSCP emphasizes real-world events and practical skills in addition to theoretical understanding. You gain the knowledge and confidence necessary to address difficult cybersecurity concerns thanks to this practical strategy.
Factors to Consider When Choosing an OSCP Training Institute
It's important to keep the following things in mind when choosing the top OSCP training institute in India:
Curriculum and Learning Materials
For learning to take place effectively, a broad curriculum containing current material is essential.  Make sure the institute offers a course that is well-structured and covers a variety of topics, including network security, exploit development, and penetration testing.  Additionally, having access to top-notch study tools like labs, practice problems, and video lectures can significantly improve your learning outcomes.
The success of your OSCP course is significantly influenced by the knowledge and experience of the teachers.  Look for institutions that employ individuals from the business who have a lot of actual expertise with cybersecurity.  These instructors can enhance your learning process by offering priceless insights, useful advice, and examples from real-world situations.
Hands-On Labs and Practice
The key to learning the craft of penetration testing is to put your abilities to the test in real-world settings.  A respectable OSCP training center ought to provide virtual and hands-on laboratories where you may put the skills and resources you learned during the course into practice.  You can hone your abilities and develop confidence in carrying out effective penetration tests by participating in regular practice sessions and challenges.
Developing a support structure is essential because learning cybersecurity is a lifelong process.  Look for institutions that provide resources such as forums, chat rooms, or mentorship programs for after-training support.  Being a member of a thriving community of cybersecurity lovers can offer chances for networking, knowledge exchange, and keeping up with the most recent market developments.
Top OSCP Training Institutes in India
India is home to many top-notch OSCP training facilities famous for their high standards of instruction and industry-focused approaches.
Craw Security: Excellence in Hands-On Training
Here, we are providing you the detail of 1st Offensive Security's Official Learning Partner in India — Craw Security, which is worth your consideration:
Course Offered
Program for extensive OSCP training.
Key Features
●        Emphasis on practical abilities, specialized lab settings, individualized mentoring, and assistance with exam preparation.

●        Real-time case studies, knowledgeable professors from reputable cybersecurity firms, and engaging class discussions make up the curriculum.

●        Virtual labs, constant access to learning resources, and instruction from qualified teachers.
Macksofy Technologies Pvt Ltd: Flexible Learning Options
It is one of the partners of Offensive Security in Mumbai, India, marking its remarkable entry towards success.  In addition, Macksofy Technologies is highly known for its flexible learning options for its learners:
| | |
| --- | --- |
| Course Offered | Flexible Learning Options. |
| Key Features | Virtual labs, constant access to learning resources, and instruction from qualified teachers. |
5.  Advantages of Pursuing OSCP Training in India
Aspiring experts in cybersecurity have various benefits from selecting an OSCP training institute in India:
Affordability: When compared to other nations, OSCP training in India is frequently more affordable, making it a desirable choice for people looking for top-notch instruction at an affordable rate.
Skilled Instructors: There is a sizable pool of highly qualified cybersecurity specialists in India. You can learn from professors with extensive understanding of the sector and real-world experience by enrolling in an Indian institute.
Growing Cybersecurity Industry: With a rising need for qualified workers, India's cybersecurity sector is expanding significantly. You put yourself in a position to take advantage of these new employment options by pursuing OSCP training in India.
FAQs
About Best OSCP Training Institute in India
1: Is OSCP certification worth it?
Yes, OSCP is highly worthy for individuals willing to go further in their current cybersecurity-based career.  With this prominent OSCP Certification Training from Craw Security, the Official Learning Partner of Offensive Security, to deliver quality training courses to all interested individuals, you can do wonders in your career.
2: How long does it take to complete OSCP training?
Generally speaking, it is 80 to 100 hours of proactive training from a world-class training professional with a worthwhile experience as a primetime educational instructor of OSCP Certification Training.  You can do this world-class educational course from Craw Security, an official learning partner of Offensive Security, to deliver the course at a pretty discounted rate.  Hence, give us a call at +91-9513805401 now for a demo session.
3: Can I pursue OSCP training online?
Yes, you may do this highly supervised OSCP Certification Training from the best and classified mentors from Craw Security that can deliver you the authentic study material duly scrutinized and verified by Offensive Security.
4: What career opportunities are available after obtaining OSCP certification?
After finishing this OSCP Certification Training from a verified resource like Craw Security, you can find yourself landing a high-paying job position at an MNC or any other worthy organization.  However, the mainstream career opportunities that are available after obtaining OSCP certification are as follows:
Penetration Tester,
Security Consultant,
Security Analyst,
Incident Responder,
Vulnerability Researcher,
Security Engineer,
Security Architect, etc.
5: How can I get started with OSCP training?
By joining a classified organization that is duly recognized by Offensive Security as an official learning partner, just like Craw Security, you can start your further career in cyber security with full comfort and ease.
Conclusion
In the bottom line, we would like to state that selecting the best training facility is essential if you want to launch a prosperous cybersecurity career and obtain the famous OSCP certification.  The top OSCP training institutions in India that were previously mentioned provide outstanding learning opportunities, practical training, and knowledgeable advice to assist you in reaching your objectives.  Keep in mind that investing in your education in cybersecurity is an investment in your future.