Best Amazon Web Service Course in Delhi | AWS Course
May 31, 2022
2023-01-22 16:07
Best Amazon Web Service Course in Delhi | AWS Course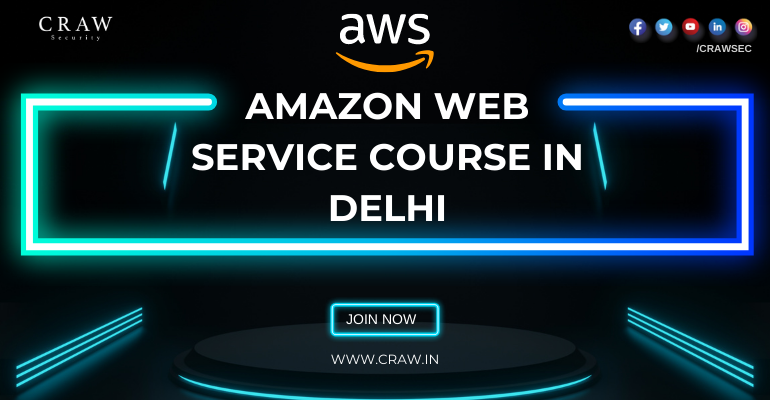 Best Amazon Web Service Course in Delhi | AWS Course
Amazon Web Service Course in Delhi
Amazon Web Service Course is introducing students to a vast syllabus of Cloud Computing. What's there in it? To understand the work of Cloud Computing you need a better understanding of the infrastructure of Cloud Engineering.
We all know that Clouds are not only the one which we see up above our heads, but also they can store the Hardcore Data we store in our Storing Devices. Mainly, Amazon, you know that this website is one of the Most Visited Websites in the world.
Also, Millions of Users have their accounts linked to this website. That much data that might be Confidential can be the reason for the worry of website owners. Now, analyzing the Security Status of the website and how the functions are properly working in perfect condition is the responsibility of a Cloud Administrator.
Amazon Web Service Course Syllabus
| | | | |
| --- | --- | --- | --- |
| 1. | Planning & Design | 10. | AWS VPC |
| 2. | Monitoring & Logging | 11. | Encryption Solutions |
| 3. | Hybrid IT Architectures | 12. | Cloud watch logs |
| 4. | Elasticity & Scalability | 13. | Disaster Recovery |
| 5. | Amazon EC2 | 14. | Amazon Route 53 |
| 6. | Amazon S3 | 15. | AWS Storage Gateway |
| 7. | AWS Cloud Formation | 16. | AWS Import/Export |
| 8. | AWS VPS | 17. | Troubleshooting |
| 9. | AWS IAM | | |
Amazon Web Service Course Duration
The duration of this course is 60 Hours. Also, for learning purposes, you can download eBooks from Play store made available by Craw Security.
Amazon Web Service Course Eligibility
Well, there are no set rules for joining this course. Anyone from any stream can join this course, by applying for this course. However, anyone already has some skills in Cloud Computing and Computer Languages can go for advanced courses afterward.
Unlike other institutes, Craw Security offers the opportunity to join the Amazon Web Service Course after 10th to students. If you're interested in this field you can
Amazon Web Services Certification
Amazon Web Services Certification trains students to become Professional Cloud administrators and Job-Oriented. As the students get this certification, they'd be liable for the security and maintenance of Cloud Administrating.
Moreover, this course and certification are available both online and offline for aspirants who're devoted to becoming a Professional Cloud Administrator. They can learn all the skills at home enjoying their own understanding, with no one interrupting and interfering around. However, it'll be only possible if they get the support of Craw Security.
Amazon Web Service Course Fees
Several institutes are offering this course to students at rates. Whatsoever, they are only focused on finishing the course for students that'll make no worth your money and time. Whereas, at Craw Security, you'd definitely get far better than your expectations from other institutions.
Here students will receive the best learning experience with Best Qualified Professional Teachers that are holding the best experience in Cyber Security World. What's more, could anyone except.
Frequently Asked Questions
About Amazon Web Service Course in Delhi | Best institute for Amazon Web Service Certification
How much does AWS training cost?
Several institutions may ask for a big amount whether you get your full satisfaction or not. Moreover, they might be focused on finishing the sessions instead of quality learning. However, Craw Security indulges in such activities that can give the students, the right amount of time to understand the basics and fundamentals of AWS perfectly.
It will increase their interest in researching and performing more practicals. Here, with Craw Security, students can complete this course on a pocket-friendly budget.
What is Amazon Web Services Certification?
This certification is the validation of a Certified Cloud Administrator. If you go for an interview with this certification for the designation of a Cloud Administrator, you'll definitely get selected at one time.
Is Amazon Web Services easy to learn?
Nothing is easy to learn in this whole world. It's you who made it look easy when you put yourself into it. Well, other than that if you get the support of the qualified teachers of Craw Security, you'll be able to feed yourself with the best guidance. That will increase your skills much faster.
What is AWS certification salary?
Salary packages can change depending on various factors: what's the demand, how many responsibilities you'll hold, and which company you'd serve. Other than that, you can expect a high-paid salary after completing this course.
Is AWS good for career?
Yes, AWS full form is Amazon Web Service and you already know that Amazon is a big brand famous worldwide. Also, you know that managing the data of millions of people isn't a piece of cake. So, they need Professional Cloud Administrators who can provide the best services to them. We can say that surely, this is one of the best career options in the IT Sector.
Do I need coding for AWS?
Well, it depends on how much you indulge into it and how much you have trained before applying for this course. Other than that you don't need any skills in learning AWS.
Is python needed for AWS?
If you're in the middle level of the skills related to a Cloud Administrator, you must hold some skills in Python or a different Computer Language. However, to start a career in this you do not need any skills in Python. If you already possess such skills then it's good for you.
Is AWS still in demand?
Totally! AWS is related to Cloud Security and understanding. Most of the part is dependent on Cloud Data. We know that as we're growing we need Technologies to comfort our work. Cloud is one of those tools that has made our work easy to Store Data.
Managing the logging of users on the platforms has become more and more casual. So, we need something like this in our daily lives.