Learn Networking Basic Course In Delhi
Learn Online Networking Course in Delhi provides you with the best knowledge and skills so that you can pursue a career in the field of Networking without any extra training. This course is accumulated with the knowledge and insights of industry experts and domain professionals from all around the world. We have managed to pursue genuine channelization of knowledge transfer through an online method in this course with the best-in-class industrial training from the famous teachers as mentors and faculty members providing you their organizational experience of years within the vast curriculum. Hence, apply now to know more!
Accreditation with : Craw Cyber Security
Book a FREE Trial Class
Training Available 24*7 Call at +91 9513805401
Networking Course Description
Since the pace of Cyber Security and Awareness is enhancing with each passing day in India and overseas. The common people are also aware of the consequences that can be happened due to Cyber Frauds which are also arising at a high speed every day. Craw Cyber Security Institute is also offering its genuine and authentic Basic Online Networking Training in Delhi that can kick start your career with the crucial knowledge transfer that you will apprehend during the sessions. The curriculum of the Online Networking Course Syllabus is comprehensively constructed by the technical experts of the domain of Networking and tech gurus of the Cyber Security and Analysts.
Our professional mentors and faculty members nicely transform a novice or basic learner into a full-fledged expert in the Networking industry and also help the candidates to secure a good position in different kinds of Multi-National Companies. Whenever you want to have a suitable Networking Course in Delhi you can select the name of Craw Cyber Security Institute in Saket and Lakshmi Nagar locations both in offline and Networking Course Online.

Craw Cyber Security Institute is professionally working for a decade in the industry of providing professional Computer Networking Course Online to the aspirants who want to build a shinier career in this particular domain by working as a Certified Computer Networking Expert in some MNC with a handsome salary package. Our expert group of teachers has maintained a professional relationship with their past organizational employers so that they can place their valuable students in some dignified companies after their due learning with the institute. We also give a membership of 2 years to the enrolling students so that they can repeat their classes as many times as they want within the 2 year period. Craw Cyber Security Institute will also help in preparing students for the final exam by which they can obtain a professional and valid certificate from Craw Cyber Security Institute followed by the 100% Placement Assistance.

Is Networking a good career?

According to the survey done by IT Career Finder, Network Administrator Job is ranked in the Top 10 IT Positions. One can rest assured by finding the salary pay slips of Network Administrators from all parts of India having their salary from some of the reputed organizations. It's a good field to build a career into it as a professional good experienced Network Administrator can earn up to ₹20,00,000/- a year in India if holding a genuine and authentic certification with some recognized body. We provide CISCO Certified Network Associate Certification as we are the authorized partner of CISCO. The trainers that give the premium training of our curriculum are also trained and certified for giving the same training from reputed institutions. Hence, one who is seeking a shinier future in Network Administration can simply purchase our Online Networking Training in Delhi from Craw Cyber Security Institute.
Show More ∨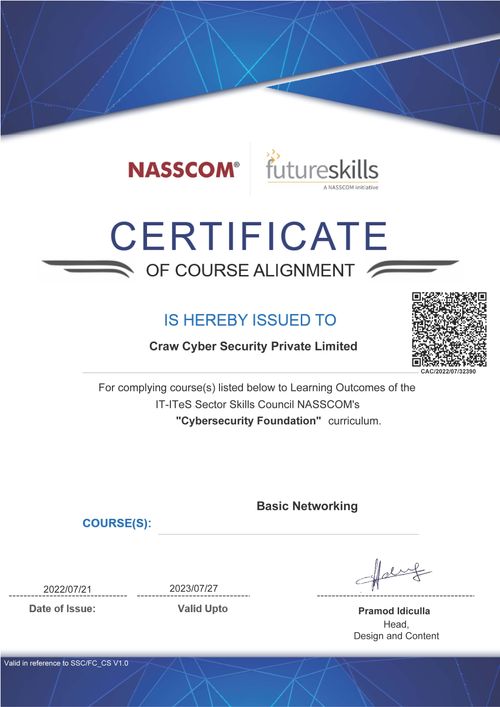 Upcoming Training Batches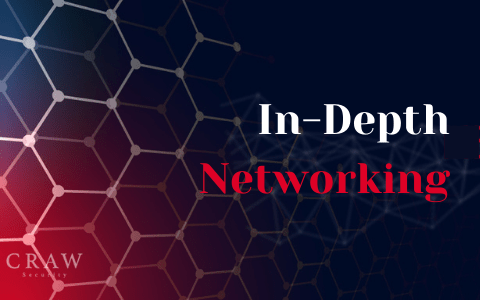 Contact us : +91 951 380 5401  |  011-4039 4315
Join Online Training and Certification Course
In-Depth Networking Course Training
What will you learn in Online Networking Training in Delhi
| Name | Testimonial | Review |
| --- | --- | --- |
| Kirti Mittal | Best place for Ethical hacking training very professional staff I taken online classes best experience guys try once you will love it thank to . | |
| Charles Peterson | I based in Canada took online training for CEH V11 Ethical hacking from this Institute. I am truly happy to choose this Institute and also want to appreciate this institute qualified trainers best management. | |
| Romonia Peterson | Best Institute in Delhi that provides the best Ethical hacking Course. I learnt many skills from here under the guidance of Sidharth Sir who have been very helpul and supportive. | |
| Natasha | Best training for CEH Ethical hacking. I learned a lot of practical knowledge in Ethical hacking , worth for money totally satisfied with training. Highly recommended to others students. | |
Frequently Asked Questions
About Online Networking Training in Delhi | Networking Course 
Which certification is best for networking?
There are many institutions in the market who provide certification courses in Networking Administration but Craw Cyber Security Institute offer both Online Networking Training in Delhi and offline classes in Saket and Lakshmi Nagar institutes.  Our institute is the prime partner of CISCO Institute which is the primary face in this Networking domain for a long span.
What is the cost of CCNA certification in India?
The average cost of CCNA Certification in India is around ₹22,000/- to ₹25,000/- which can be valid for a period of 3 years, after that time, you can reappear for the recertification exam and extend your certificate validity.
Which networking course is best for future?
There are varied Networking Certifications for which one can apply and make a greater career ahead into the Networking domain.  Some of them are shown below:
Cisco CCIE Security.
Cisco CCIE Enterprise Infrastructure.
Cisco DevNet Associate.
Checkpoint CCSE.
Checkpoint CCSA.
Certified Penetration Testing Professional (CPENT)
AWS Solutions Architect Associate.
Palo Alto Networks (PCNSE)
Yes, the professional Computer Networking is highly in demand by most of the IT organizations.  Based on the survey conducted by IT Career Finder, Network Administrator Job is ranked in Top 10 IT Positions.  The growth rate in Network Administration background is also fantastic in terms of most paying jobs in India.
How do I start a networking career?
It's very good to know that you have built up your mindset to go for a particular stream in a concerning trajectory. Hence, if you wish to kick start your career in networking streamline then you can go ahead with the following two approaches:
1. You can go for the PG specialization in Computer Networking and Administration from any IIT and NIT after graduation from a related field.
2. Apart from that, you can easily join some vendor certifications like CCNA, CCNP, and Basic Online Networking Training in Delhi from Craw Cyber Security Institute in Saket and Laxmi Nagar.
Does networking require coding?
People will misguide you with this answer for you to take enroll in their course but the answer is affirmative. You will surely need to have some basic to advanced level of knowledge or programming languages like C, C++, Java, or Python, etc. if you wish to make a shinier career in this particular domain.
In case you specifically want the security stream, then you will require a nice experience with Linux. You can join Craw Cyber Security Institution for all of the above-mentioned courses classes on both online and offline modes of conduction.
Is there any future in networking?
Everyone knows that India is the IT Center of Asian countries where possessing Networking knowledge plus experience can be a game-changer thing for oneself. It is a high In-Demand Job in various cities in India as the scope of Networking is magnificent in India. The organizations like TCS, Infosys, Wipro, HCL, Tech Mahindra, etc. are continuously searching for genuine Networking employees for joining.
What are the 4 types of networks?
A computer network is mainly of four types:
LAN(Local Area Network)
PAN(Personal Area Network)
MAN(Metropolitan Area Network)
WAN(Wide Area Network)
Is computer networking difficult to learn?
If you wish to learn the Basic course in Networking trajectory then it is not so hard to learn but if you are keen to know the depth learning methodologies of Networking and Administration then things can be harsh in your way as learning the depth or advanced version of Networking Administration require some nice amount of coding which is a very hectic schedule for anyone who is not a quick learner.
Is networking complicated?
Learning Networking is certainly a complex process since it requires coding in its in-built system but its most basic concepts are in reality very easy to learn. One can grasp all the things accurately by giving some focus in the classes which require a nicely experienced teacher that Craw Cyber Security can provide in so pocket-friendly prices in our Basic Online Networking Training in Delhi. One can also join our Instructor-led curriculum in our offline classes if wishes so.
How long does it take to learn networking?
The Basic Online Networking Training in Delhi from Craw Cyber Security Institution requires only 40 hours of time from your valuable life to learn this course in a pretty good manner. Apart from that one can contact us for learning the advanced version of Networking Administration