Learn Online CompTIA A+ Training Course in Delhi
CompTIA A+ Course Training covers various technologies to repair digital devices and configure the various network. CompTIA A+ Course is the baseline industry standard for an IT career.
☎
Contact us : +91-9513805401 | 011- 40394315
Course Include: Training & Certificate
Accreditation with : CompTIA
Book a FREE Trial Class
Training Available 24*7 Call at +91 9513805401
CompTIA A Plus Training Course Description
CompTIA A+ certified professionals are proven, problem solvers. They support today's core technologies from security to cloud to data management and more. CompTIA A+ is the industry standard for launching IT careers into today's digital world.
What will you Learn in CompTIA A Plus Training Course in Delhi
| Name | Testimonial | Review |
| --- | --- | --- |
| Kirti Mittal | Best place for Ethical hacking training very professional staff I taken online classes best experience guys try once you will love it thank to . | |
| Charles Peterson | I based in Canada took online training for CEH V11 Ethical hacking from this Institute. I am truly happy to choose this Institute and also want to appreciate this institute qualified trainers best management. | |
| Romonia Peterson | Best Institute in Delhi that provides the best Ethical hacking Course. I learnt many skills from here under the guidance of Sidharth Sir who have been very helpul and supportive. | |
| Natasha | Best training for CEH Ethical hacking. I learned a lot of practical knowledge in Ethical hacking , worth for money totally satisfied with training. Highly recommended to others students. | |
Frequently Asked Questions
About CompTIA A Plus – CompTIA A Plus Course in Delhi
How Much Does the CompTIA A+ Certification Cost?
It's a simple question, but there can be multiple answers based on your situation and the options you choose. You will need two vouchers to pass two exams to certify.
How Long Does the CompTIA A+ Certification Last?
CompTIA A+ certification is good for three years from the date you pass your certification exam. Through our continuing education program, you can easily renew CompTIA A+ and extend it for additional three-year periods. Read on to learn more about the certification period and how you can renew CompTIA A+.
Why You Should Get CompTIA A+ Certified?
You can begin building a career that promises better pay and benefits than you may have now with CompTIA A+. It's a fantastic way to get into an IT career and grow.
How Much Can I Make with a CompTIA A+ Certification?
IT support offers countless paths to fulfilling jobs and rewarding pay – you determine the direction and, ultimately, how much money you can earn with CompTIA A+.
What Is CompTIA A+ Certification?
CompTIA A+ certification is earned by passing a set of two exams – created by IT industry professionals – that validate skills needed for entry-level IT jobs. That said, CompTIA A+ is not just about PC repair. CompTIA A+ candidates are better prepared to troubleshoot and problem solve a wider variety of issues, ranging from networking and operating systems to mobile devices and security.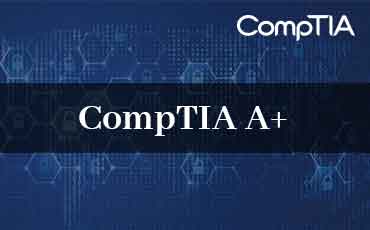 Join Online Training and Certification Course
Learn Online CompTIA A+ Training Course in Delhi
CompTIA A Plus Training Course