Top Best Ceh Training Course in Delhi
January 30, 2021
2023-03-05 13:00
Top Best Ceh Training Course in Delhi
CEH v12 Course in Delhi and Certification Institute
Download Craw Academy Application
Become an Certified Ethical Hacker that can hack computer systems and secure them like security experts. Learn the Best Eccouncil Certified Ethical Hacker CEH v12 Training and Certification from us in Delhi.
Book a Trial Demo Class
Training Available 24*7 Call at +91 9513805401
What will you Learn in CEH v12 Course in Delhi and Certification Institute
Enroll in a Certified Ethical Course with us and became specialized in hacking computer systems and securing them like the experts. We provide the best Eccouncil Certified Ethical Hacker CEH v11 Training and Certification in Delhi.The Certified Ethical Hacker v11 (CEH v12) program is a very popular information security training program among information security professionals. Enrolling in a CEH V12 Course helps in covering all concepts in the objectives so that you can master the knowledge needed to clear the CEH Exam.
What will you Learn in CEH v12 Course in Delhi and Certification Institute?
If you are looking for a good and professional Ethical Hacking Course in Delhi, then Eccouncil CEH v12 Course in Delhi and Certification Institute is perfect for you. While learning here, you will get training in Ethical Hacking Training used in the industry by the Best Ethical Hacker and Penetration Testing experts from this field.
Certified Ethical Hacker V12 course in Delhi starts with a general overview of security essentials. After that, you will start learning system, network, and web services security before diving deep into wireless and Internet security.
Module 01 : Introduction to Ethical Hacking
Module 02 : Footprinting and Reconnaissance
Module 03 : Scanning Networks
Module 04 : Enumeration
Module 05 : Vulnerability Analysis
Module 06 : System Hacking
Module 07 : Malware Threats
Module 08 : Sniffing
Module 09 : Social Engineering
Module 10 : Denial-of-Service
Module 11 : Session Hijacking Module
Module 12 : Evading IDS, Firewalls, and Honeypots
Module 13 : Hacking Web Servers
Module 14 : Hacking Web Applications
Module 15 : SQL Injection
Module 16 : Hacking Wireless Networks
Module 17 : Hacking Mobile Platforms
Module 18 : Internet of Things
Module 19 : Cloud Computing
Module 20 : Cryptography
CEH v12 Our Course Advisor
Choose Your Preferred Learning Mode

We offer customized VILT (Virtual Instructor-Led Training) sessions at your convenient hours to provide effortless training.

One can also opt for the prerecorded video sessions available at any point of time from any particular location.

Hire a preferred trainer at your work premises at your chosen time slots and train your employees with full efficiency.
CEH v12 Course Description
The main benefits of taking a Certified Ethical Hacker V12 Course are:-
It provides the breadth of coverage necessary to learn the full security concepts behind the CEH exam.
It assists prepare you for a career as a Cyber security professional.


If you want to make a career in Cyber Security then getting admission for ethical hacking V12 training and certification program is quite essential. CHv 12 is a leading training and certification program where Students audit a system for weaknesses and vulnerabilities using the same tools and exploits as malicious hackers, but having proper legal rights and is working towards the cyber security of an organization.
One of the most important things to be a proficient hacker is that you understand the psyche of how a hacker's brain works. By taking the CEH V12 Course, you will be in a better state to be at the helm of an organization's cyber security. In today's day and age, when cyber security is a top priority in every organization, taking up a Certified Ethical Hacker V12 Course will give you an edge over others in this field. The Certified Ethical Hacker (ceh v12) program is the most coveted information security training program any information security professional wants to learn. Completing this course help you in acquiring hacking technologies but within the legal framework of the country, which you can use in ethical ways. Getting training in this course gives you proper knowledge of advanced hacking tools and techniques used by hackers and information security professionals across the globe. It is the world's most advanced certified ethical hacking course which provides you the training of top 20 security domains anyone has to know to better the information security position of the organization. It uses 20 comprehensive modules while covering 340 attack technologies, mostly used by hackers.
About the CEH V11 Program
Getting admission to a Ceh V11 course helps you in mastering an ethical hacking ( CEH V11) methodology. The skills you will learn there can be used in penetration testing or ethical hacking v11 situation. When you will finish the course, you will come out with hacking v11 skills that are in high demand along with the internationally recognized Certified Hacker certification. This course will also prepare you for EC- Council Certified Ethical Hacker Exam.
Craw Security's Students Awarded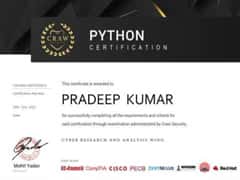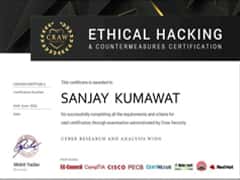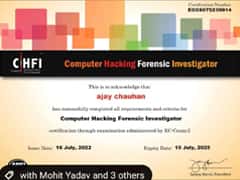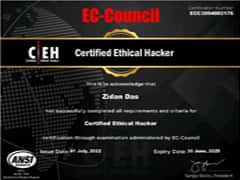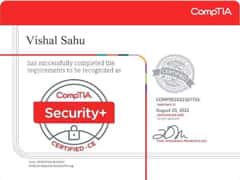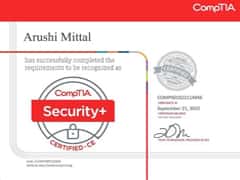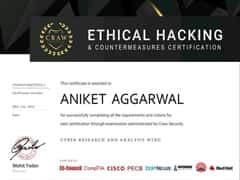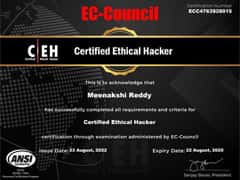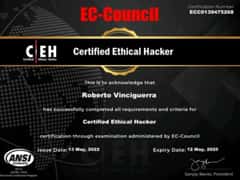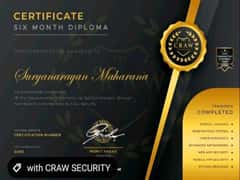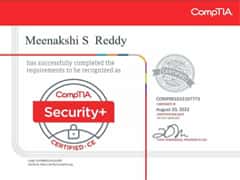 What will you Learn in CEH v12 Course in Delhi and Certification Institute
Related Cyber Security Course
What People Are Saying About Craw Security






CEHv12 Frequently Asked Questions
Where can I learn Ethical Hacking in Delhi?
You can learn an Ethical Hacking Course in Delhi. This Ethical hacking Course provided by Craw Cyber Security in Saket and Laxmi Nagar. 
Which certification is the best for Ethical Hacking Course?
Eccouncil Certified Ethical Hacker, CEH v12 Certification Course is the best Certification Course for Ethical Hacking which is provide by us in Delhi. 
Which Institute is the best for Ethical Hacking Training?
The Best Institute for doing Ethical Hacking Course in Delhi is craw Cyber Security. It is located in Saket and Laxmi Nagar. 
Is Ethical Hacking a good Career?
Yes, Ethical Hacking Course is a good career if you are interested in the Ethical Hacking and cybersecurity field but it requires a great knowledge of the whole IT field. Join our Ethical Hacking Course in Delhi, Saket, and Laxmi Nagar
What is the salary of an Ethical Hacker in India?
We provide placement on Ethical Hacking after completed Ethical Hacking Course. The Eccouncil Certified Ethical Hacker salary in India for freshers starts from ₹3.5 LPA. The average salary of an Ethical Hacker in India turns out to be between ₹29k and ₹41k per month. 
Which language is best for Ethical Hacking ?
Python Language is the best for Ethical hacking Course. We provide Python Programming Course for Ethical Hacking Course to become Master in Ethical Hacking.
What skills do you need to be an Ethical Hacker?
Computer Networking Skills.
Computer Skills
Linux Skills
Basic Hardware knowledge 
Cryptography Skills
Database Skills