Best CEH v12 Training Institute India | Cyber Security Course
February 2, 2021
2023-03-04 15:59
Best CEH v12 Training Institute India | Cyber Security Course

Best CEH v12 Training Institute in Delhi
Download Craw Academy Application
Learn a specialized and Certified Ethical Hacking Course in Delhi with fully intensified classroom experience via the most versatile faculties and mentors from the house of EC-council with the most advanced and latest technological updated software of CEH v12 Training and Certification module.
Book a Trial Demo Class
Training Available 24*7 Call at +91 9513805401
DELHI | NOIDA | LAXMI NAGAR | GURUGRAM | KERALA | PUNE | BANGALORE
CEH v12 Training Institute India (Certified Ethical Hacker) certification v12 is to help you to become a master in the ethical hacking course (Ceh v12) that can be used in Penetration Testing in the ethical hacking course in Delhi, India. When you walk out the door with ethical hacking information skills that are highly in demand, which carries the same value as an international certified ethical hacker course you get the most out of it. In conclusion, this ethical hacking course prepares you for the Eccouncil CEH certification v12 exam. Moreover, this course can be taken at an ethical hacking institute named craw security in Delhi, India
Module 01 : Introduction to Ethical Hacking
Module 02 : Footprinting and Reconnaissance
Module 03 : Scanning Networks
Module 04 : Enumeration
Module 05 : Vulnerability Analysis
Module 06 : System Hacking
Module 07 : Malware Threats
Module 08 : Sniffing
Module 09 : Social Engineering
Module 10 : Denial-of-Service
Module 11 : Session Hijacking Module
Module 12 : Evading IDS, Firewalls, and Honeypots
Module 13 : Hacking Web Servers
Module 14 : Hacking Web Applications
Module 15 : SQL Injection
Module 16 : Hacking Wireless Networks
Module 17 : Hacking Mobile Platforms
Module 18 : Internet of Things
Module 19 : Cloud Computing
Module 20 : Cryptography
CEH v12 Our Course Advisor
Certified Ethical Hacker Course
Become a Certified Ethical Hacker that can easily hack systems from any remote location and secure them like a genuine Security Analyst in the coolest way possible via the techniques and tactics that you will learn from our verified curriculum from ECcouncil in our authentic CEH Training in Delhi.
➜ This course is for anyone who wants to become an expert in ethical hacking course. This ethical hacking course ceh certification covers the required ethical hacking information skills.
➜ For beginners and intermediate internet users who are interested in ethical hacking information, security, safety, and privacy.
➜ For anyone who would love to gain a ethical hacking course practical skillset in mitigating the risk from, malware, Trojans, hackers, tracker, cyber criminals and all online threats.
➜ In other words, for those who want privacy and anonymity online from hackers, corporations and governments.
What will you Learn in CEH v12 Course in Delhi | Ethical Hacking Course
Choose Your Preferred Learning Mode

We offer customized VILT (Virtual Instructor-Led Training) sessions at your convenient hours to provide effortless training.

One can also opt for the prerecorded video sessions available at any point of time from any particular location.

Hire a preferred trainer at your work premises at your chosen time slots and train your employees with full efficiency.
CEH v12 Course Description
The newly updated
CEH v12 Training Institute India
ethical hacking course v12 now includes a library of the latest tools required by security practitioners and pen testers across the world.
It is mapped rigorously to important specialty areas under the NIST/NICE framework's in ethical hacking course protect and defend (PR) job role in CEH certification.
CEH certification has updated Cloud and IOT modules to incorporate CSPs, Container Technologies (e.g. Docker, Kubernetes), as well as
Cloud Computing
threats and several
IOT hacking
tools such as Shikra, Bus Pirate, Facedancer21 and more in ethical hacking course in Delhi, India.
Similarly, this ethical hacking course program has included new operating systems such as, Windows Server 2019, Windows Server 2016, Windows 10 configured with Domain Controller, firewalls, vulnerable
web applications
for practicing and improving hacking skills in
CEH certification.
Above all, this ethical hacking course includes the latest malware analysis tactics for ransomware, banking, financial malware, IOT botnets, OT malware analysis, Android malware, and more skills in certified ethical hacker course.
Craw Security's Students Awarded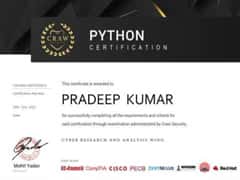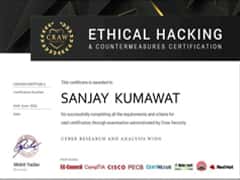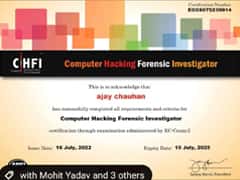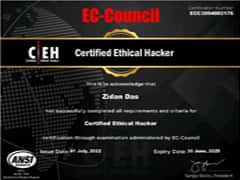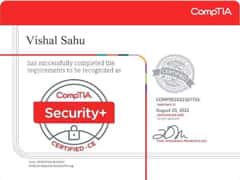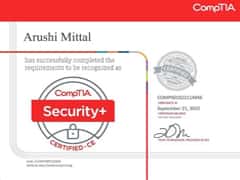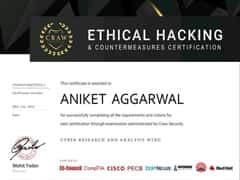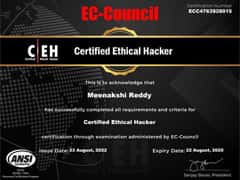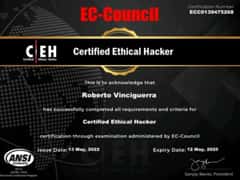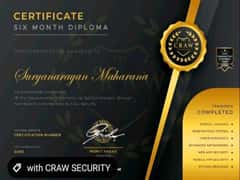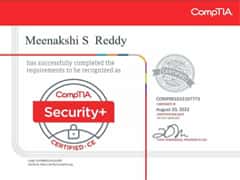 Related Cyber Security Course
What People Are Saying About Craw Security






CEHv12 Frequently Asked Questions
Where can I learn Ethical Hacking in Delhi?
You can learn an Ethical Hacking Course in Delhi. This Ethical hacking Course provided by Craw Cyber Security in Saket and Laxmi Nagar. You can learn this Ethical Hacking Course offline method are provide by us.
Which certification is the best for Ethical Hacking Course?
Eccouncil Certified Ethical Hacker, CEH v12 Certification Course is the best Certification Course for Ethical Hacking which is provide by us in Delhi. 
Which Institute is the best for Ethical Hacking Training?
The Best Institute for doing Ethical Hacking Course in Delhi is craw Cyber Security. It is located in Saket and Laxmi Nagar. You can take classes Offline classes to get more information about Ethical Hacking Training.
Can I learn Ethical Hacking Course at home?
yes, you can learn online Ethical Hacking Course at home. We provide Online Instructor-led Ethical Hacking Course for students and corporate employees. you can visit our website www.craw.in and fill enquiry form click here to fill Enquiry Form
Is Ethical Hacking a good Career?
Yes, Ethical Hacking Course is a good career if you are interested in the Ethical Hacking and cybersecurity field but it requires a great knowledge of the whole IT field. Join our Ethical Hacking Course in Delhi, Saket, and Laxmi Nagar
What is the salary of an Ethical Hacker in India?
We provide placement on Ethical Hacking after completed Ethical Hacking Course. The Eccouncil Certified Ethical Hacker salary in India for freshers starts from ₹3.5 LPA. The average salary of an Ethical Hacker in India turns out to be between ₹29k and ₹41k per month. 
Which language is best for Ethical Hacking ?
Python Language is the best for Ethical hacking Course. We provide Python Programming Course for Ethical Hacking Course to become Master in Ethical Hacking.
What skills do you need to be an Ethical Hacker?
Computer Networking Skills.
Computer Skills
Linux Skills
Basic Hardware knowledge 
Cryptography Skills
Database Skills
What is the basic certified ethical hacker salary?
6 Lakh Per annum to 8 Lakh per annum for certified ethical hacker salary.
what is the ceh certification cost in india?
35000 INR  + GST is ceh certification cost in India. But there are many Cyber Security Institute that provides ceh certification at a very high price also.
what is the ceh v12 certification validation? Does it have some expiry?
 ceh v12, i.e., Certified Ethical Hacker v11, has three years of validity if you pass ceh certification. Within these three years, you will have to collect some minimum CPE points to keep your certification up to date and valid. If you fail to collect it, you will have to reappear for ceh certification again.
which can I do an ethical hacking certification course in india? What are job opportunities in India?
 Yes, You can do an ethical hacking certification course in india from Eccouncil authorized training partner in Delhi. You can choose basics to advanced certifications. All international certifications can be done in India.
what is the ethical hacker salary in India 2021?
As per the latest Covid updates, most of the companies have been working from home. Every organization needs cybersecurity experts for them as they will have to provide data security to their employees and organization data. The salary of an ethical hacker in 2021 would be between a range of 6 lakh per annum to 8 lakh per annum for the ethical hacker in India
where can I find ethical hacking jobs in Delhi?
There are many companies in Delhi NCR for ethical hacking. You can check job websites or visit the craw security career placement section to find the latest ethical hacking jobs in Delhi, NCR.