Shield XDR: Best Solutions & Vendors in New Delhi, India
June 21, 2023
2023-07-24 18:25
Shield XDR: Best Solutions & Vendors in New Delhi, India

Unified Detection, Investigation and Response Across Your Enterprise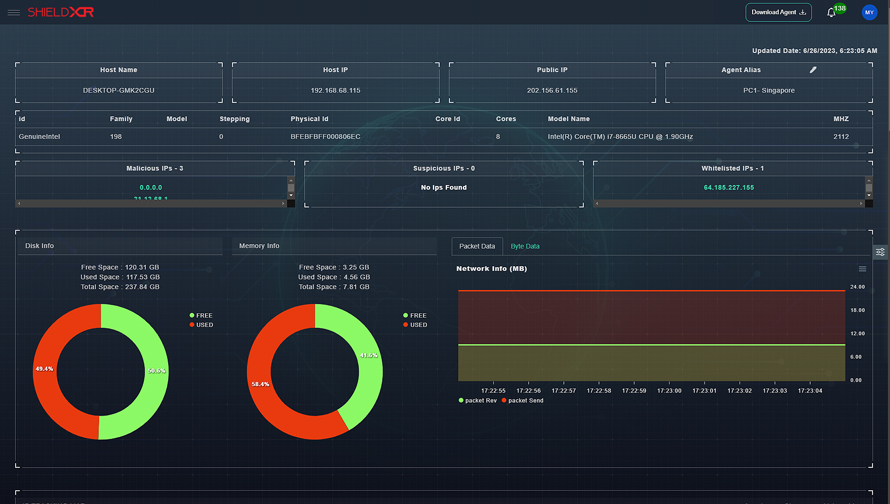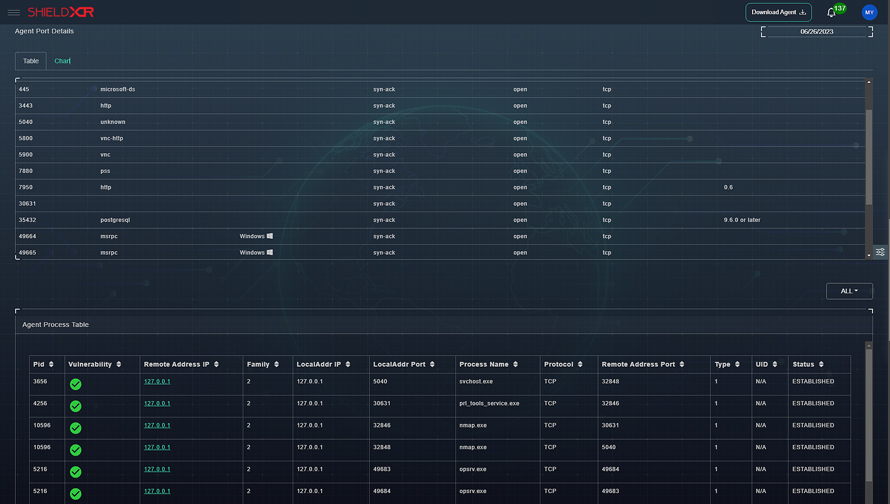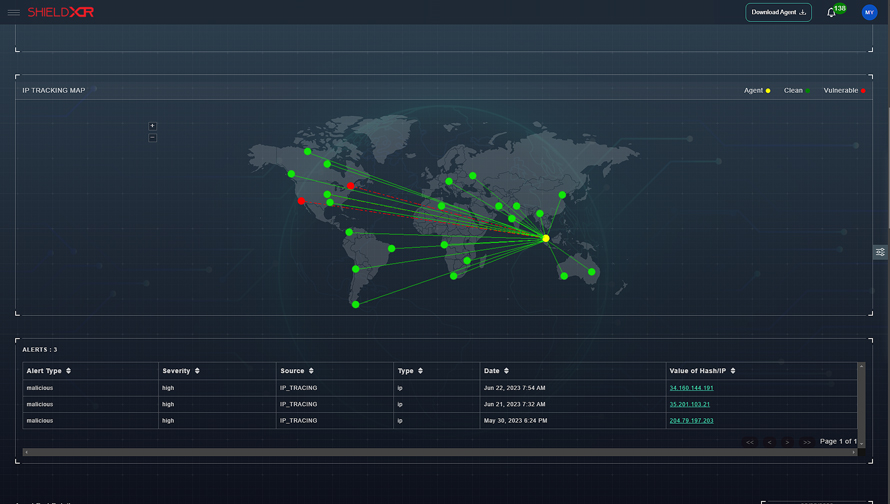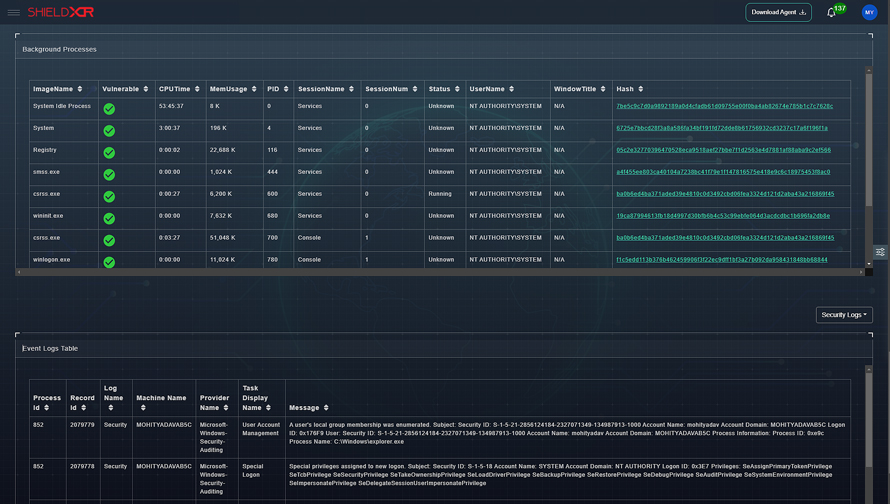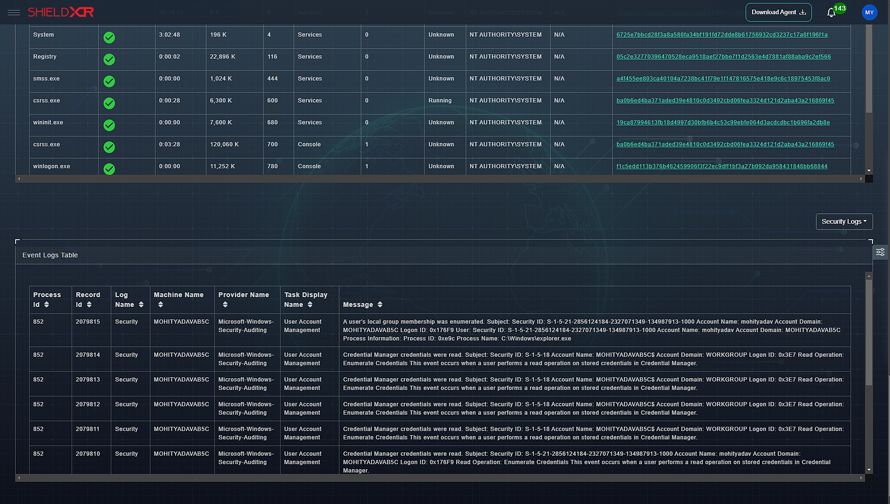 A Comprehensive Threat Protection Solution
Organizations confront growing sophisticated threats that can damage their information, systems, and brand image in the modern-day, quickly changing cybersecurity world. In this regard, companies must therefore use cutting-edge safety measures to safeguard their assets from all kinds of threats. Subsequently, Shield XDR is a unique solution offered by Craw Security, an outstanding provider of cybersecurity services and training that offers thorough threat protection to businesses of all sizes.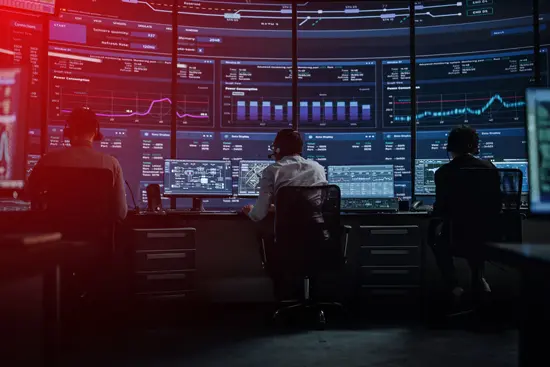 With Artificial Intelligence, Machine Learning and Analytics
With the use of cutting-edge innovations like artificial intelligence (AI), machine learning (ML), and behavioral analytics, Shield XDR is an effective security solution that can quickly identify and address sophisticated threats. Through the integration of endpoint security, network security, and cloud security into a single platform, it provides a holistic approach to threat detection and response. Shield XDR offers round-the-clock surveillance and alerts, enabling businesses to react promptly to any security event.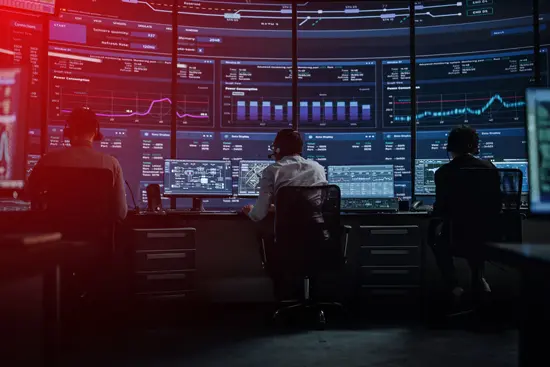 Key Features of Shield XDR ?
Shield XDR's endpoint security system is sophisticated and prevents malware, ransomware, and other cutting-edge threats from infecting endpoints. Real-time detection and reaction to zero-day threats are accomplished using AI and ML techniques.
Shield XDR offers complete network security by keeping track of all network activity and spotting potential dangers. To identify unusual network activity and stop unwanted traffic prior to it reaching its target, it employs behavioral analytics.
By keeping an eye out for potential threats in cloud workloads and apps, Shield XDR extends its security to those settings. It uses cutting-edge threat intelligence to recognize and respond rapidly to cloud assaults.
Security teams may proactively discover possible dangers by using Shield XDR's sophisticated threat-hunting capabilities. This analyzes a lot of data using AI and ML algorithms to find an unusual activity that can point to a threat
We offers rapid response capabilities that let businesses act rapidly in the event of a security problem. To lessen the effects of a security issue, it might automatically isolate compromised endpoints, restrict malicious traffic, implement additional steps
Shield XDR offers simply one pane of glass for safety functions and interfaces with various other safety systems. To offer a thorough security posture, it interacts with SIEM solutions, threat intelligence feeds, and other security technologies.
Our team is dedicated to meeting your needs effectively and efficiently.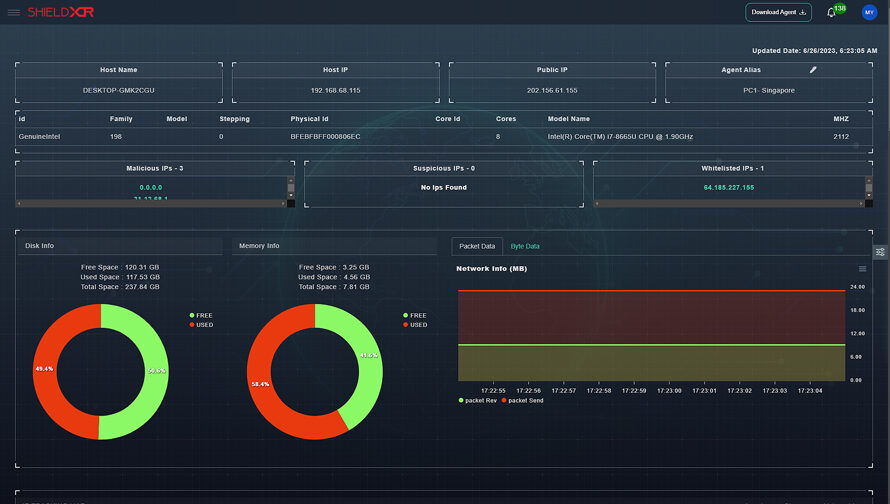 Dashboard Overview
A business's network's IP-related actions, events, and threats are centrally shown on an XDR (Extended Detection and Response) IP surveillance output dashboard. The dashboard combines data from numerous sources, including intrusion detection systems, firewalls, network security appliances, and endpoint agents, for real-time insight into IP traffic and possible security issues. egardless of the XDR platform or solution used, an XDR IP surveillance output dashboard's unique design and elements may change. But the following are some typical components you might see in such an interface:
Overview: The general part of the dashboard typically opens with a high-level summary of the IP monitoring operations. Key indicators, including the total IP interactions, threats discovered, and traffic trends, may be included in this.
Incident Tracking: A list of current or previously resolved IP-related safety problems is shown on the dashboard here. Each incident record may contain information about the attack's kind, affected systems, source, destination IP addresses, etc.
Alerting and Notifications: This dashboard section mainly focuses on real-time notifications and alerts associated with IP monitoring. It might draw attention to urgently needed security incidents, rule violations, or unusual IP activity.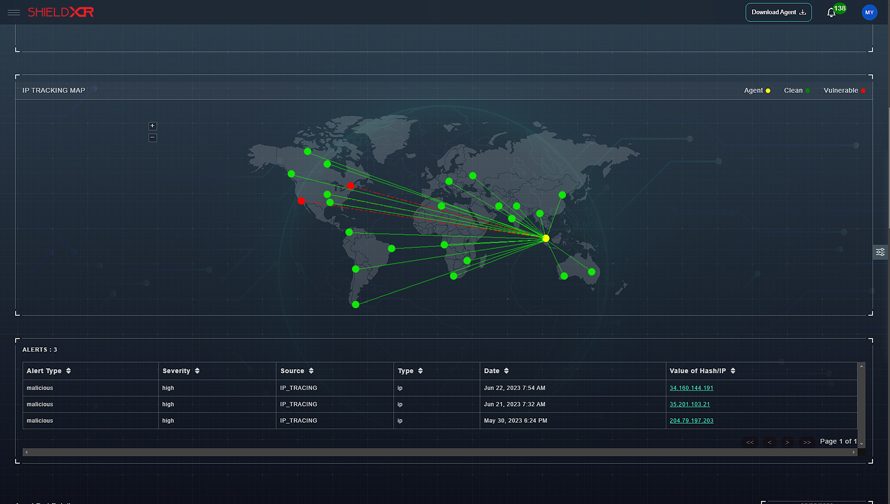 IP Tracking Details
An XDR (Extended Detection and Response) framework's "IP Traffic Map" interface displays network traffic trends determined by IP addresses. It sheds a spotlight on the original sources and endpoints of network traffic while providing details on the worldwide distribution of connections on the network. Although the precise information and capabilities of an IP Traffic Map dashboard can differ based on the XDR platform or provider, the following components are frequently present:
Geographic Visualization: An illustration of a world map showing the locations of the nations or territories crucial to network traffic. The spread of IP addresses used in connections to networks worldwide can be seen due to this visualization.
Traffic Volume: The amount or size of network traffic between IP addresses is represented by the degree of thickness or magnitude of the links on the map. Thicker lines denote greater traffic levels, whereas lower traffic levels by thinner lines.
IP Address Connections: Visual cues showing links between several IP addresses, including lines or arrows. These linkages may include client-server communications, server-to-server communications, and other network activities.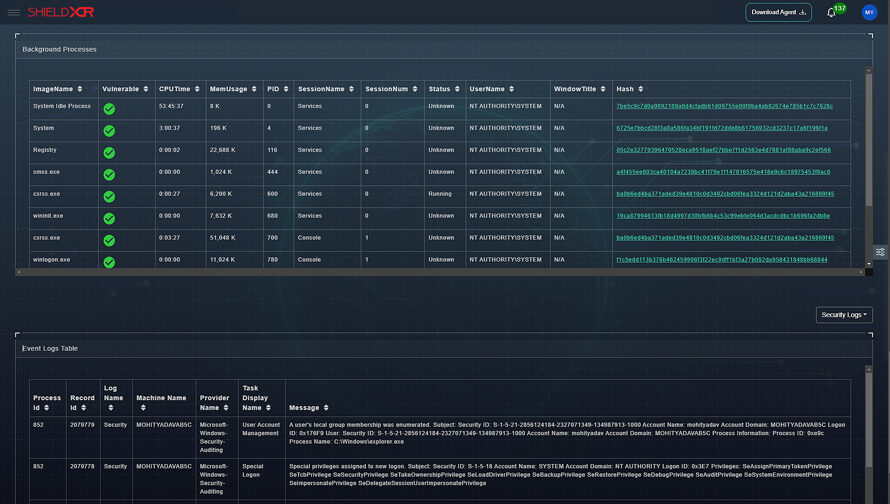 Process Logs: Event documents or comprehensive logs produced by operations in the background. These logs include details about how tasks were carried out, errors made, timestamps, and other pertinent information for debugging or analysis
Process Status: A summary of how the background operations are doing right now, noting whether they're running, finished, or having problems. This information lets Users as administrators monitor these operations' health and efficiency.
An XDR (Extended Detection and Response) platform's background operation dashboard offers transparency into the state and efficacy of several procedures and duties that are operating in the background to assist with the overall safety of activities. Although the particular information shown in a process's background dashboard may differ based on the XDR platform or vendor, the following aspects are frequently present
Background Processes
Performance Metrics: Metrics and background operation performance data, including delay, efficiency, CPU, memory, etc. These indicators assist in evaluating the XDR platform's effectiveness and scalability.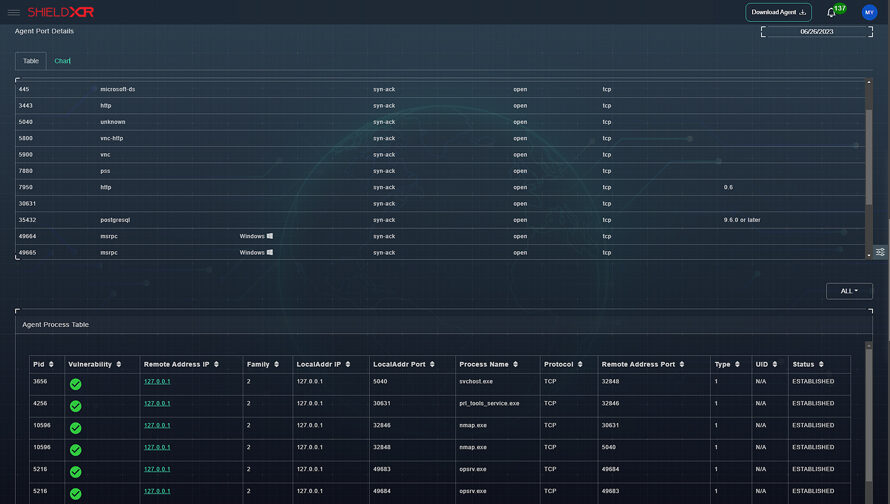 Agent Port Details
Various port files can offer helpful data for cybersecurity surveillance and improvement. Varied protocols for networks utilize ports as communication endpoints. Security experts can spot potential security vulnerabilities, malicious activity, and illicit entry attempts. This list of concerning logs highlights their importance in relation to cybersecurity:
SMTP Logs : For email security, SMTP (Simple Mail Transfer Protocol) logs are important. They may assist in the detection of spam, phishing attempts, and other anomalous email behaviors pointing to an account being hacked or a potential breach.
HTTP/HTTPS Logs: Web traffic can be analyzed using HTTP and HTTPS records. These log files could disclose significant security flaws, including cross-site scripting, web application attacks, SQL injection, or strange file uploads.
SSH Logs: Logs kept by SSH (Secure Shell) record actions involving remote access using SSH. By keeping an eye on these logs, you can find strange SSH connections, brute-force attacks, and illegal SSH login attempts.
FTP/SFTP Logs: File transfer actions are recorded in the FTP (File Transfer Protocol) and SFTP (Secure File Transfer Protocol) logs. Wrong file transfers, strange download/upload trends, or efforts to access password-protected portions of the network can all be found by watching these logs.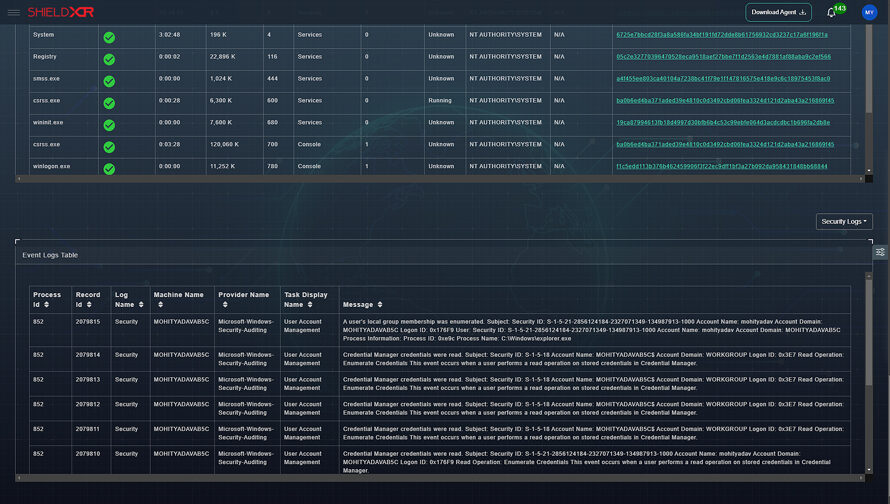 Event Logs Table
This highly beneficial Shield XDR software provides you with a long-lasting experience in doing several genuine activities that provide world-class security upgradation to your organization's all types of gadgets within your IT infrastructure.
Normalize Data: To maintain a uniform format in an organization, the information gathered is then standardized. This step is essential as various sources may have distinct log structures and data depictions.
Collect Data: Information from your network's endpoints, servers, cloud facilities, and network equipment is collected and aggregated by XDR solutions. Logs, events, network traffic, and endpoint telemetry are a few instances that demonstrate this data.
Correlate Events: XDR systems use Enhanced correlation methods to find connections and patterns among various events. Identifying possible dangers or dubious activity, including various systems or network parts, is made easier due to this.
Enrich Data: Adding more contextual details to the information will enrich and increase its worth and relevancy. This may entail adding geographic information to IP addresses or details regarding role-based access controls to user accounts.
Companies should select Shield XDR as their main security solution for a number of factors. First off, Shield XDR unifies high security for endpoints, network security, and cloud security into one system in order to offer thorough threat prevention. This simplifies things and gives a comprehensive picture of the safety posture of the business. Furthermore, Shield XDR employs cutting-edge technologies like AI, ML, and behavioral data analysis to quickly identify and address sophisticated threats. By doing this, businesses are guaranteed protection from the most recent dangers. Finally, Shield XDR offers round-the-clock monitoring and alerting so that businesses can react promptly to any security event. In this context, this lessens the effects of a security incident and aids firms in keeping commercial operations up and running.

Secure Yourself With Rapid Cyber Security Solutions!
Cloud-based platform, Installed in Seconds for Ultimate Protection!
Get Started
Training Available 24*7 Call at +91 9513805401