Learn Online CompTIA CYSA+ Training Course in Delhi
CompTIA CySA+ Course focuses on behavioral analytics of networks and resolves cybersecurity threats. CompTIA CySA+ Course confirms strong areas and fills knowledge gaps in weak areas.
Book a FREE Trial Class
Training Available 24*7 Call at +91 9513805401
CompTIA CYSA Plus Course Description
Learn CompTIA CySA+Training Course in Delhi is a certification that validates candidates' ability to protect and continuously improve the security of an organization. CompTIA Cybersecurity Analyst Plus Training Course will give the students to learn various threat detection techniques, interpreting data, identifying vulnerabilities. CompTIA CySA+ Course meets the ISO 17024 standard and is trusted by the U.S. Department of Defence.
What will you Learn in CompTIA CYSA Plus
| Name | Testimonial | Review |
| --- | --- | --- |
| Kirti Mittal | Best place for Ethical hacking training very professional staff I taken online classes best experience guys try once you will love it thank to . | |
| Charles Peterson | I based in Canada took online training for CEH V11 Ethical hacking from this Institute. I am truly happy to choose this Institute and also want to appreciate this institute qualified trainers best management. | |
| Romonia Peterson | Best Institute in Delhi that provides the best Ethical hacking Course. I learnt many skills from here under the guidance of Sidharth Sir who have been very helpul and supportive. | |
| Natasha | Best training for CEH Ethical hacking. I learned a lot of practical knowledge in Ethical hacking , worth for money totally satisfied with training. Highly recommended to others students. | |
Frequently Asked Questions
About CompTIA CYSA Plus-CompTIA CYSA Plus Training Course in Delhi
How long does IT take to study for CompTIA CySA+?
This thing totally depends from institute to institute.  Some institutes provide an unnecessary long curriculum that the candidates actually do not require while some do not offer proper education by not completing the curriculum associated with the CompTIA CySA Plus Course.
On the other hand, Craw Security provides a genuine approach to delivering good education curtailed by various cyber security experts all over the world in a sincere curriculum with the exact kind of length that a person requires.
Can you get a job with just CySA+?
Yes, since acquiring the CompTIA CySA Plus Course Certificate is not a small child's plaything.  It requires a lot of hard work and time to obtain this certification.  IT organizations of all sizes and categories hire CompTIA CySA+ Certified people.
How do I prepare for CompTIA CySA+?
That is so great to hear that you have made up your mind to study for CompTIA CySA+ Training Certification.  One can prepare for this splendid course by following a great teacher's educational sessions through YouTube tutorials.
Apart from this, if someone has a problem understanding the same from those YouTube sessions, one can join a sincere CompTIA CySA Plus Course in Delhi from the state-of-the-art facilities of Craw Cyber Security Institute widely marked its presence at Saket and Laxmi Nagar locations of Delhi NCR.
How difficult is CompTIA CySA+?
It is comparatively 50 times more difficult than CompTIA Security+ Training.  That is why it has been recommended by many cyber security experts to work for at least 5 years as a proven security analyst in a genuine IT organization after completion of CompTIA Security+ Certification.
Yes, many hiring executives/ managers take CompTIA CySA+ Training Certified professionals in their IT organizations for varied security profiles.
Why would I choose CompTIA CySA+ over other cybersecurity certifications?
CompTIA CySA+ is the only intermediate high-stakes cybersecurity analyst certification with hands-on, performance-based questions and multiple-choice questions that covers the most up-to-date core cybersecurity analyst skills and upcoming job skills used by threat intelligence analysts, application security analysts, compliance analysts, incident responders/handlers and threat hunters, bringing new techniques for combating threats inside and outside of the Security Operations Center (SOC).
How long is CompTIA CySA+ good for, and how can it be renewed?
As with many CompTIA certifications, CySA+ is good for three years.
How much can I make with CySA+?
A CompTIA CySA+ certified security analyst with a proven track record of 1 to 4 years will take home around ₹51,32,471/- annually.  However, for a period of 10 years, the same would get around ₹62,83,114/- per annum.
Should I take security+ before CySA+?
Yes, it will boost your knowledge regarding the same and you will hone yourself as a proven cyber security analyst personnel.  The process is also the same, one needs to have been a professional cyber security analyst with something around 5 years of practical experience in the cyber security diverse work functions to be enrolled in the CompTIA CySA Plus Course.
How Do I Get My CompTIA CySA+ Certification?
You will earn the CompTIA Cybersecurity Analyst (CySA+) certification by passing one exam that includes both multiple-choice and performance-based questions. Read on for some common-sense advice that can increase your chance to succeed in your exam and achieve CompTIA CySA+ certification status.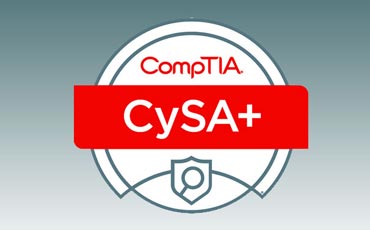 Join Online Training and Certification Course
CompTIA CYSA Plus Training Course