Cloud Computing Workshop
August 30, 2022
2023-04-19 18:08
Cloud Computing Workshop
Under the Guidance of Cyber Security Expert "Mr. Mohit Yadav"
Get Workshop Details
Training Available 24*7 Call at +91 9513805401
Most organizations are taking their manual database or the datasets that they store on the hard drives of their respective organizations' personal computers to the cloud servers of different cloud source providers. In this league of shifting more and more info-possessing datasets to cloud servers, we need to understand the basic criteria of the change in technology. Here, Craw Security's work comes into force where we provide a long-lasting as well as impacting 2-day long workshop related to the Cloud Computing sector where you will get a basic overview of these cloud computing technologies from our
expert mentors.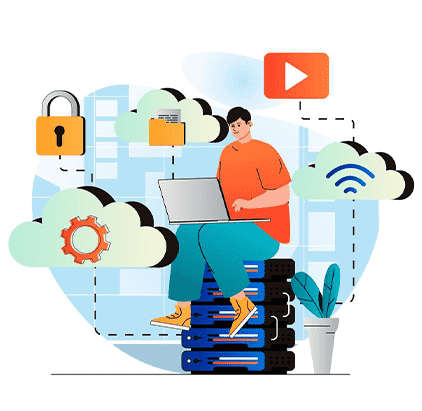 Cloud Computing Workshop in Delhi
We keep on providing our high-end workshops to many distinguished schools, colleges, and universities in order to impart quality knowledge transfer to our future generations that are students. Moreover, Craw Security – the best cloud training institute in pan India, also boosts strategic growth connected to prominent Cloud concepts to all the employees hailing from every type of individual and government- owned organization whosoever is interested in having Craw Security's workshop on their premises. Apart from all, Craw Security will also provide a very genuine fee rebate to every interested person to take a fully-fledged Cloud Associate Training in India under the guidance of proactive trainers and mentors.
Get Additional Workshop Benefits
What will you Learn in Cloud Computing Workshop
Within the 2 days of this workshop, You will be taught according to the magnificent module that has been created by our expert team to cover all your basic aspects of Python Programming. Moreover, All the Students, faculty members, and coordinators will be provided with some valuable and essential knowledge-possessing curriculum associated with the Python Programming concepts during the 2-Days Workshop primarily dedicated to honing the skills of the participants in the genre of a python programming course.
Cloud Computing Workshops Covered by Craw Security
Some of the promising individual and Government sectors & agencies where we continuously provide our valuable workshop services:
List of Companies you can get placements in
| Company Name | Contact Person | E- Mail | Contact Number | Course Name |
| --- | --- | --- | --- | --- |
| Deep Logictech India Pvt Ltd | Nidhi | hr4@deeplogictech.com | +011-45453628 | Ethical Hacker |
| British Telecom | Binit Rai | binit.rai@bt.com | +91-7595920106 | Cyber Security Professional |
| Fastandfurious Consulting | Niharika Sharma | hr2@fastandfuriousconsulting.com | +91-9990291119 | Networking |
| Parahit Technologies Ltd. | Pooja Thakur | ptlhr@parahittech.com | +91-9149292929 | Technical Support Engineer(CCNA) |
| Trigent Software Limited | Hafsaa Sait | hafsaa_m@trigent.com | +91-9886970024 | L1 Technical Support Engineer |
| Shriv ComMedia Solutions Pvt. Ltd. | Aarti Singh | aarti@commediait.com | +91-9910967277 | Software Developer |
| HCL Technology | Anamika | hr@evisions.co.in | +91 9811722023 | Network Administration, Security |
| BreachLock | BreachLock | hello@breachlock.com | +1 917-779-0009 | Penetration Tester with Python Development |
| Right Step Consulting | Right Step Consulting | resume@rightstepconsulting.com | +0120-429 1013 | Network Administrator |
| ACE IT Solutions | ACE IT Solutions | Info@aceits.net | +646-558-5575 | Junior Cyber Security Analyst |
| Limpidstone Technology Pvt. Ltd | Manisha Saini | info@limpidstone.com | +91 7840060051 | CEH |
| Indian Institute of Management and Development | IMMD Placement | info@iimdindia.com | +020 - 6500 1155 | L 1 Engineer |
| Indian Institute of Management and Development | IMMD Placement | career@vsure.in | +91 9354061269 | Network Administrator |
| Indian Institute of Management and Development | IMMD Placement | career@vsure.in | +91 9354061269 | L 2 Engineer |
| Indian Institute of Management and Development | IMMD Placement | career@vsure.in | +91 9354061269 | Accounts Executive |
| Three D Integrated Solutions Ltd | Uma Verma | uma.verma@threeds.com | +91 874507070 | Certified Ethical Hacker (CEH v11) |
| IARM Information Security Pvt Ltd | Sridhar | sridhar@iarminfo.com | +91 9361906659 | C|EH v11 |
| IARM Information Security Pvt Ltd | Sridhar | sridhar@iarminfo.com | +91 9361906659 | SOC Analyst |
| LINC Education Services | Avani Raghuvansi | avani@linceducation.com | +91 7045577921 | Cyber Security |
| Mekdam Technical Services | Abdul Saiyad Khan | a.syed@mekdamholding.com | +91 9908403117 | Scada Security |
| Precise Testing Solution Pvt Ltd | Sonali Sharma | hr@precisetestingsolution.com | 0120 - 45555590 | EC-Council |
| RDX | Navisite Pvt Ltd | Naveen Kumar | nkumar@rdx.com | +91 7411602488 | Sr. Consultant |
| Aujas Technology Pvt Ltd | Pankaj Badera | pankaj.badera@aujas.com | +91 7696506250 | Sr. Consultant |
| Tetra Information Services Pvt. Ltd. | Mitali | mitali@tetrain.com | +91 7024125214 | Linux |
| Orbit India | Pragati Choudhary | hr.orbit@orbitindia.net | 011 - 49141500 | CCNA |
| Percoyo Pvt Ltd | Dorai Raj | hr@percoyo.com | +91 8660333455 | Stack Developer |
| AAITPro | Kartik Beemsingh | kartib@aaitpro.com | +91 9789905286 | CCNA |
| Experis | Nidhi | nidhi.sharma@in.experis.com | +91 9810182383 | SAP |
| Seek Your Job | Kumara | cv@seekyourjob.com | +91 9443455374 | Web Development |
| Art Kart | Anil Pakhare | art.kart00@gmail.com | +91 9082452620 | Android |
| Ideas2it | Dhanasekar | dhanasekar@ideas2it.com | +91 8681059189 | Software Testing |