Best Ethical Hacking Training Institute in Delhi
August 13, 2021
2023-11-25 15:33
Best Ethical Hacking Training Institute in Delhi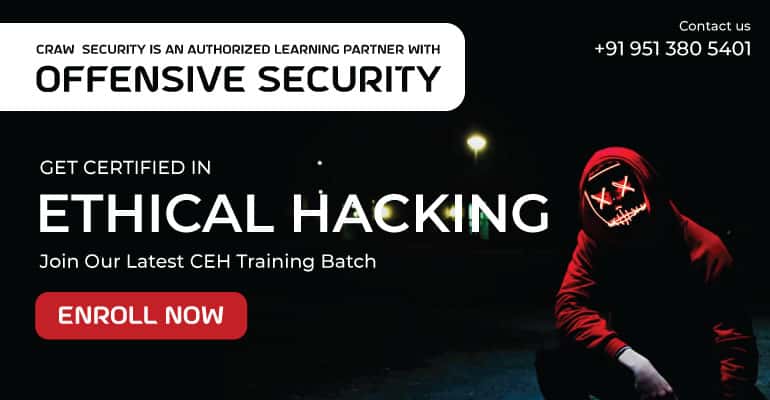 Best Ethical Hacking Training Institute in Delhi
Living in a world full of Hackers can be stressful!! Don't you think??
Living in a world full of Hackers can be stressful! Don't you think so?  Thus, it would be very beneficial if you start learning the fundamentals of Ethical Hacking by yourself from any reputed training institution providing genuine Ethical Hacking Training in Delhi through the most experienced and skilled faculty members.
Craw Security is the Best Ethical Hacking Training Institute in Delhi that believes in making our customers and students' life stress-free through its dedicated methodologies of imparting quality education in the field of Information Security and ethical Hacking.
We have given wings to our students' aspirations of building their careers in Ethical Hacking, preparing them for strong role as Penetration Testing Experts, Forensic Analysts, Intrusion Analysts, Network Security Managers, and other high-profile roles.
Moreover, we also provide students with a "Placement Assistance" in addition to the 1 Year Diploma in Cyber Security Course.
Our Ethical Hacking Training Institute in Delhi has stood firmly by its commitment to our students through every thick and thin circumstance duly related to any of our institutions.
Let me take you through the nitty-gritty of the matter in the following article:
Ethical Hacking Fast-Track Course Details
Short Term Course
Out of the most genuine Ethical Hacking Training Institutes in Delhi, Craw Security is the premier information security course-providing institute that is working on the sole theme of offering high-end ethical hacking training with the best-in-class Short Term Courses such as the following.
Ethical Hacking Fast-Track Course: Duration 8 hours/day | 1 Week
Ethical Hacking Short Course: Duration 4 hours/day | 15 Days
Ethical Hacking Training Course: Duration 60 hours | 30 Days
What's New in Ec-Council Certified Ethical Hacker v12?
The latest version of EC Council Certified Ethical Hacker v12 was launched on Wednesday, 7th September 2022 with a worldwide release through the EC Council platform.  However, there are several specializations and updates announced with the same release of CEH v12 with no change in the number of modules.  Some of the prominent changes in technology are as follows:
EC Council C|EH v12 Content Updates
1. Learn 2. Certify 3. Engage 4. Compete
New Learning Framework:
Compete for New challenges every month!
100% compliance with the NICE 2.0 Framework
Based on a comprehensive industry-wide job task analysis
Hands-on Learning Labs
Practice Range
Global C|EH community competitions
Cheat sheet
Coverage of the latest malware
Lab-intensive program (every learning objective is demonstrated using labs)
Hands-on program (50% of training time is dedicated to labs)
Lab environments that simulate real-time environments
Covers the latest hacking tools (based on Windows, macOS, and Linux)
The latest OS covered and a patched testing environment
Updated versions of tool screenshots, tool listing slides, and countermeasure slides
Compete for New challenges every month!
Learn about the new challenges that are coming every month for the new-level ethical hacking practitioners in the following table:
| | |
| --- | --- |
| Month | Skill Challenge |
| October 2022 | OWASP Top 10 Web Application Threat Vectors |
| November 2022 | Ransomware/Malware Analysis |
| December 2022 | Outdated/Unpatched Software |
| January 2023 | System Hacking and Privilege Escalation |
| February 2023 | Web Application Hacking and Pen Testing |
| March 2023 | Cloud Attack/Hacking |
| April 2023 | Social Engineering/Phishing attacks |
| May 2023 | IoT Attack/Hacking |
| June 2023 | Wi-Fi Network Attack/Hacking |
| July 2023 | DOS/DDoS Attack |
| August 2023 | Mobile Attack/Hacking |
| September 2023 | Supply Chain Cyber Attacks |
EC Council C|EH v12 Technology Updates
MITRE ATT&CK framework
The diamond model of intrusion analysis
Techniques for establishing persistence
Evading NAC and endpoint security
Fog computing
Edge computing
Grid computing
WHAT IS HACKING?
Hacking is a deliberate effort to harm or steal sensitive information from an IT infrastructure, a network, IoT devices, a website, or any other resource related to the system.
Some must-know information about Ethical Hacking is mentioned below:
Illegal use of computer and network resources
"Hacker" is a gifted and smart programmer
Hacking is prohibited and is considered an illegal activity in many nations like India, the U.K., the U.S., France, Germany, China, etc.
It can be legalized after obtaining advance permission from the competent authority for the specialized Ethical Hacker.
The general difference between an Ethical and an illicit Hacker is that an Ethical Hacker often takes permission from the concerned authorities. In contrast, illicit hackers do this for the sake of extracting money in place of returning the database to the authorities.
Ethical Hacking Training trains genuine hackers who counteract the illicit hackers far before they plan to launch any cyberattack on the target IT infrastructure.
Ethical Hacking training to locate types of Hacker
These so-called White Hat Hackers are widely known as Ethical Hackers and computer security experts who are well-versed in various tests like penetration tests. In addition, they also use some technical tools and tactics, just like the potential hackers are malicious, to identify possible vulnerabilities in the systems and form a protective shield to save their respective organizations from damage.
The Black Hat Hackers are the illicit practicing users that launch several cyberattacks to penetrate the security protocols of various IT infrastructures, networking interfaces, IoT devices, websites, and other resources.  They put their evil intention of damaging, modifying, and stealing critical or sensitive information on the target's diverse interfaces.  In short, they threaten organizations, society, nations, and even the world.
In simple words, the Grey Hat Hackers are just like a blessing in disguise. They are a perfect blend of White Hat Hackers and Black Hat Hackers, as they are always on the hunt to search for possible shortcomings in a system without any particular consent from the owner.  Once they encounter any cyberattack or glitch in the distinguished IT infrastructure, they inform the owner and initiate the rectification process as soon as possible.
Learn Ethical Hacking fundamentals from Craw Cyber Security Institution – the Best Ethical Hacking Training Institute in Delhi, providing all needful knowledge regarding the information security genre through its world-class teaching faculties and mentors staff.

Ethical Hacking training highlights
Common Hacking Techniques
Phishing: This particular terminology was introduced in 1996 by that time's potential hackers who used to steal crucial information like account details, passwords, and credit card details from several internet users.  Phishing means convincing a user to share one's utmost sensitive information by giving some rewards, such as prize money, gifts, etc.  This process also includes a piece of fake information that the victim has won a huge bounty or money in a lottery that the one has not enrolled which may result in a data breach as worse as major money loss.
Bait and Switch Attack: It is a kind of fraudulent system that urges the utilization of trusted avenues to cheat users into visiting suspicious sites.
Key Logger: It is a form of spyware in which a target user is ignorant that the one is being abused by holding a tap on one's actions.
Denial of Service (DoS\DDoS) Attacks: Denial of Service (DOS) attacks the server making the website unavailable. This special sort of attack is done by the usage of a unique device; however, in a Distributed Denial of Service attack (DDOS), most devices, along with numerous locations, are engaged in an attack.
ClickJacking Attacks: These are some specialized "UI redress attacks" in which a potential attacker forms the utilization of numerous layers to puzzle the users to fall prey by clicking on a certain link on some other page, whereas their prime intention is to click on the top-level page.
Cookie theft: This particular type of cyber attack comes into force when a third party replicates unencrypted data and uses it to mimic the actual one.  This happens when a user tries to access reliable sites over a public Wi-Fi network.
You may learn all the chief functions of an ethical hacker's daily routine in a reputed IT organization from the Best Ethical Hacking Training Institute in Delhi – Craw Security through the best-in-class faculty members doing the job.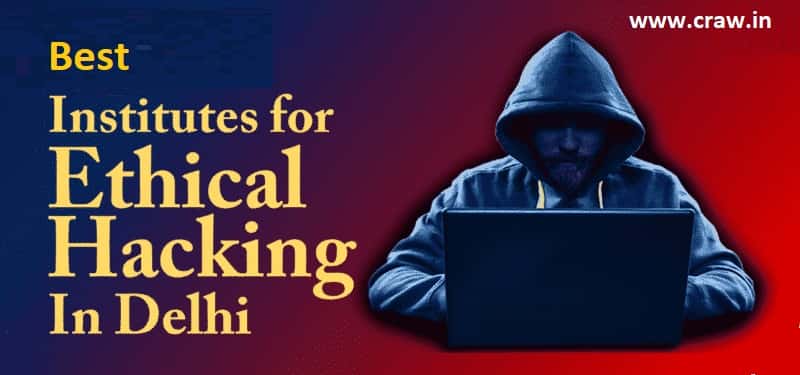 Here, we will gain some insights into what an ethical hacker does and one's role and responsibilities.
Ethical Hackers are proficient persons with a deep understanding of the fundamentals of information security and ethical hacking.  They possess in-depth knowledge of the drawbacks of the system or where the system has flaws that an illicit hacker can exploit.  Moreover, they tend to use their abundant knowledge as black hat hackers but are only limited to analyzing the security status of the target IT infrastructures.
Some kind of logical reasoning and memory recall are dedicatedly required as hacking stuff generally comprises garnering facts and details; sometimes, they might come from numerous sources for a potential-looking attack plan strictly inclined towards the logic of how varied systems function.  Ethical Hacking is a complex and critical process in which one practicing Ethical Hacker requires time to prepare and execute.
Ethical Hacking Institute Near Me
On the same side, Craw Security has all the necessary resources to teach varied Ethical Hacking Fundamental concepts to the students, as it is the Top Ethical Hacking Institute in Delhi.
We have state-of-the-art infrastructure to make your study experience a bit more exciting and trendy. Which one can practice various fundamentals related to ethical hacking in labs, wide-open air-conditioned classrooms, fully comfortable chairs, and other useful materials that can enhance your study experience in the interactive live classroom sessions with our genuinely skilled trainers having 10+ years of industry experience?
All the above-mentioned utilities make our institute the Best Ethical Hacking Training Institute in Delhi, keeping all the essential utilities as the top priority for our students.
Top Ethical Hacking Institute in Delhi: Description
The high-end curriculum curtailed in the Ethical Hacking Training and Certification is constructed by various think tanks and hacking professionals worldwide.  Moreover, this primetime infosec course on Ethical Hacking will certainly support students in understanding the basics of cybersecurity, Information Security, Computer Security, etc.  One will certainly grab all the essential knowledge related to the latest tools and techniques regarding hacking fundamentals of this superb Ethical Hacking Course in Delhi.
There are no special eligibility criteria related to the Ethical Hacking Course Eligibility for this magnificent Ethical Hacking Course in Delhi is offered by Craw Cyber Security Institute in Delhi – the Best Ethical Hacking Training Institute in Delhi.  Any person with a minimum 10th passed certificate from a recognized board all over the world can enroll in this course and learn the fundamentals of the Ethical Hacking Course.  Subsequently, we have 28 modules in the Ethical Hacking Training and Certification course.
Complete Package Courses Details For Students
Ethical Hacking Course in Delhi Near Me includes the following:
A Certified Trainer with 10+ years of experience.
Hands-on live training.
Concept-based training.
Lifetime Support for students post-training.
Examination fee included.
24*7 connectivity of fast internet.
Interactive lectures, group exchange of viewpoints, healthy discussions, and review sessions.
User-friendly and supportive class environment.
Importance of Ethical Hacking Training
For safeguarding Critical and sensitive datasets.
Highlighting the security vulnerabilities that potential hackers can compromise.
Save the organization from getting blackmailed by malicious actors.
One can also safeguard the digital assets possessing the organization's sensitive information.
Ethical Hacking Training Certifications 2023
Nowadays, most newspapers and magazines and full of various crimes that are reporting data breaches in many organizations hailing from varied niches all over the world.  It can be a grocery store that might possess some credit card information of their customers, a fashion store possessing sensitive information of their elite customers, an e-commerce website with the valuable information of its customers, etc.
There are various government organizations that are looking forward to ethical hackers for their help and support.  Some of the famous courses are described below:
 1. Certified Ethical Hacker
This is a very famous ethical hacking certification chosen by many hacking enthusiasts all over the world.  It comprises checking the information related to cyber security professionals' basic knowledge of security threats, vulnerabilities, risks, etc.; this exam is dedicatedly designed.  All cyber security personnel having prior information in the infosec field can sit in this certification exam without any previous training.
The majestic course classes can be attained in the high-end elite classrooms of Craw Cyber Security Institute – the Best Ethical Hacking Training Institute in Delhi at Saket and Laxmi Nagar locations.
 2. Offensive Security Certified Professional (OSCP)
This knowledgeable certification is conducted by the Offensive Security Institute itself.  The institution has not given any vendor the authorization to conduct this certification on its behalf, which makes it a USP of this institution that the price and the comprised curriculum will be the same throughout the world.  Moreover, this OSCP Training might be offbeat. Still, it offers very technical certification with an aim that cyber security professionals shaped after the successful completion of this majestic certification become a genuine infosec workforce for any organization.
Ethical Hacking Course Eligibility:
Passed 10+2 in any relevant stream with working knowledge of computers.
An undergraduate degree in Computer Science or relevant streams from a renowned university..
Previous experience in the IT sector is desirable.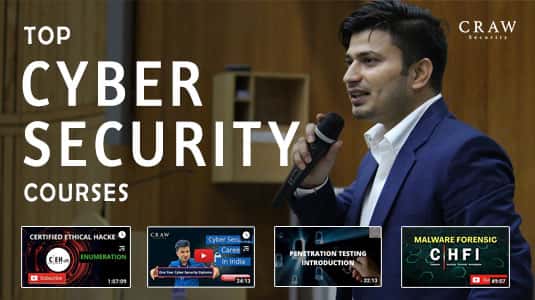 Ethical Hacking Training Fees
| | |
| --- | --- |
| FEES | ₹15,000/- + GST |
| DURATION | 60 HOURS |
| CERTIFICATION FEES | $499/- + GST |
| VOUCHER COST | $499/- + GST |
Ethical Hacking Training After 12th
Best Ethical Hacking Training Institute in Delhi
Craw Security offers 29 modules.
Contact– 011-40394315 | +91-9650202445 | +91-9650677445
Website– www.craw.in
Address– 1st Floor, Plot no. 4, Lane no. 2, Kehar Singh Estate, Westend Marg, New Delhi – 110030
Mail id– info@craw.in
Center Availability: Saket and Laxmi Nagar locations.
Frequently ask Question
1. Differentiate between Virus, worm, and Trojan Horse?
Virus: It is a program or code loaded onto your computer without your knowledge and runs against your wishes.
Worms: Worms get their name from the way they infect systems. Starting from one infected machine, they weave their way through the network, connecting to consecutive machines in order to continue the spread of infection.
Trojan Horse: This type of malware hides within or disguises itself as legitimate software. A Trojan horse program appears to have a useful and desired function, but it breaches security by creating backdoors that give other malware variants easy access.
2. Is the CEH exam Hard?
Eccouncil's CEH exam can be conducted in 2 methods: one theoretical and the other practical.  A person who studies nicely for around 8 hours a day with full concentration can crack both exams with flying colors, but since these exams possess coding skills, they are certainly termed as tough exams to crack.
Learn the Eccouncil CEH v12 Course in Delhi from Craw Cyber Security Institution – the Best Ethical Hacking Training Institute in Delhi, delivering quality education in infosec background from our state-of-the-art facilities at Saket and Laxmi Nagar locations.
3. Is Ethical hacking training valuable for money?
Yes, surely it is.  Since most companies require professional information security staff as their permanent employees, learning Ethical Hacking fundamentals from the Best Ethical Hacking Institute in Delhi is a greater choice.
4. What kind of knowledge an Ethical hacker gets from Ethical hacking training?
Programming
Coding skills to crack passwords
How to compromise with web servers
5. What languages do hackers use?
JavaScript
PHP
SQL
Python
C Programming
6. Freelancing opportunities as ethical Hackers after Ethical hacking training?
There are multiple freelancing opportunities available for Ethical Hackers after thorough Ethical Hacking training.  A bug bounty hunter is a specialized example of the same, where a practicing hacker gets paid huge rewards for finding and notifying a genuine vulnerability in the corresponding website of an organization.
7. Is Ethical Hacking a Good Career?
Yes, it's very certain that pursuing the Certified Ethical Hacking Course in Delhi is a good and shinier career ahead in case you have a keen interest in Ethical Hacking and a Cyber Security background. One can nicely join our Certified Ethical Hacking Training and Certifications from Craw Cyber Security Institute in Saket and Laxmi Nagar locations and learn from scratch to become a genuine Cyber Security professional in the shortest possible time.
8. What is salary of ethical hacker?
The maximum salary for an EC-Council Certified Ethical Hacker in India is ₹3,62,366/- per month, while the lowest tends to be around ₹17,235/- per month. The average salary of an Ethical Hacker in India turns out to be between ₹29k and ₹41k per month.
9. Which language is best for Ethical Hacking?
Many programming languages in the world are widely used by numerous potential hackers, like Python, Java, C, C++, etc. But most hackers use Python as their main coding language partner to do their various hacking stuff in the world. Researchers of the domain also say that Python Programming Language has also been immensely used by many Black Hat Hackers around the world.
10. What skills do you need to be an Ethical Hacker?
• Computer Networking Skills. • Computer Skills • Linux Skills • Basic Hardware knowledge • Cryptography Skills • Database Skills
11. Which Institute is the Best for Ethical Hacking Training?
Many institutes in the open are providing crucial training in CEH v12 Certified Ethical Hacker Course, but the Best Institute for Ethical Hacking in Delhi is Craw Cyber Security Institution, located in two premium spots such as Saket and Laxmi Nagar in New Delhi, India.
Conclusion
In final words, we would like to draw your kind attention to the value and the best ethical hacking training institute in Delhi as there are many genuine as well as crucial ethical hacking training institutions that deliver their best-in-class information security courses.  Moreover, the number of students in these training institutions is continuously increasing at a rapid pace.  If you are keen to join a sincere ethical hacking training institute that is highly accredited and affiliated with the uppermost super giants of information security backgrounds such as Offensive Security, EC Council, Red Hat Inc. CISCO Technologies, and CompTIA Technologies, then you should join Craw Cyber Security Institution at the earliest at its Saket and Laxmi Nagar facilities.