Online CISCO CCNA Course in Delhi (200-301)
Download Craw Academy Application
Learn CCNA Course in Delhi establishes a professional's stature in the world of networking. CCNA Course validates that the professional is capable of working for the upkeep of enterprise-level networks. 
Book a Trial Demo Class
Training Available 24*7 Call at +91 9513805401
Online CISCO CCNA Course in Delhi (200-301)
The candidates who are willing to make a suitable career in this particular Network Administration background always use to sign up for this course due to its immense popularity and results. Several organizations in the market always demand skilled and certified candidates possessing the right training from a credible and recognized institution that is liable to provide CISCO certification on its behalf. Craw Cyber Security Institution is an authorized partner of CISCO, EC Council, Red Hat, CompTIA, and other major giants of this cyber security industry. We are the Best CCNA Institute in Delhi providing all needful knowledge transfer in the vast curriculum duly recognized by the reputed CCNA Institute through our valuable teaching faculties and mentors who are dedicatedly experienced from the varied organizations of the networking domain and possess a nice teaching experience for years from many genuine institutes providing courses for a long span.
Cisco CCNA Course Content (Hindi)
Cisco CCNA Our Course Advisor
Best CCNA Online Training in Delhi
Craw Cyber Security Institution is well known for giving the best CCNA Training in Delhi which you impart knowledge to identify computer network components and their basic characteristics. The training also covers a basic understanding of the host-to-host communication model while learning about CCNA features. It covers topics like network security, network automation, and wifi. The main CCNA certification is CCNA but alongside, Cisco provides Specializations along with CCNA Wireless, and CCNA Collaboration, for those who want to have experience in specific skills.
The curriculum is comprised of the main features you need to know while doing a real job in some reputed organization as a Network Administrator. The course curriculum will enhance the skills and expertise you need to grow for catching an authentic job of the concerning domain with the help of experienced teachers as faculty members and mentors from several reputed corresponding organizations of the Networking background.
What will You Online CISCO CCNA Course in Delhi (200-301)
Choose Your Preferred Learning Mode

We offer customized VILT (Virtual Instructor-Led Training) sessions at your convenient hours to provide effortless training.

One can also opt for the prerecorded video sessions available at any point of time from any particular
location.

Hire a preferred trainer at your work premises at your chosen time slots and train your employees with full efficiency.
Cisco CCNA Course Description
Best CCNA Training in Delhi & Certification Course
Craw Cyber Security Institute has left a remarkable impression in the Cyber Security market with more than a decade of honest service in the society with the help of its prime partners like CISCO, EC Council, CompTIA, Red Hat, and other big organizations. We are the authorized CISCO partners to provide authentic CCNA Training in Delhi & Certification Course that will give the premium CISCO Certification to the studying candidates as well as boost the industry-led knowledge to work more efficiently in their respective roles in the reputed organizations after the placement. Some of the major features of the domain are as follows:
1. Craw Cyber Security Institution provides its students a complete and the Best CCNA Training in Delhi. Craw Cyber Security Institute is well-known for offering a professional course that prepares the understudies for live ventures and reproductions.
2. Our detailed Cisco Certified Network Associate (CCNA) course has helped the understudies to get placed in various MNCs. Our CCNA Training is very adaptable from offering an online study hall to quick track and coordinated homeroom CCNA preparing is given during workdays and ends of the week to the participants.
3. Our modern lab is laced with the latest innovations helping trainees with fruitful CCNA Training and Certification from the institute.
4. After completing the CCNA training in Delhi, the trainees make careers as specialists, overseers, and organization specialists and receive consideration, regard, and conversation into important experts in large undertakings.
5. One can easily contact us to know more about the CCNA Course Duration and Fees in Delhi.
Top 10 Reasons to Choose Craw Cyber Security Institution for CCNA Training in Delhi
• Craw Cyber Security Institution and its CCNA Course Online have created a niche for itself in the present IT industry.
• Cyber Security offers the CCNA Training in Delhi which covers the whole course modules during the CCNA classes. Additionally, understudies profit from CCNA Training in Delhi by getting placed in reputed organizations.
• CCNA Training provides training both on weekend days and weekends. Additionally, understudies can choose their preferred plan as per the requirements.
• Our group of coaches is industry-specialists having over 12+ years of experience in Training.
• Guides instructing CCNA Training in Delhi helps the trainees with living tasks, along with furnish meeting on talk with arrangement for job placement.
• Advanced IT lab has the latest framework.
• We are open throughout the year. Trainees can use the lab for finishing undertakings and practice the specialized tasks.
• Our study hall is loaded with present-day I.T frameworks such as projectors, live racks, Wi-Fi, and computerized cushions.
• Craw Cyber Security Institution gives training with a glass-entryway study room and conversation zone region (meeting space) to increase the learning and investigating capacities of the understudies.
Craw Security's Students Awarded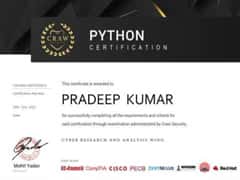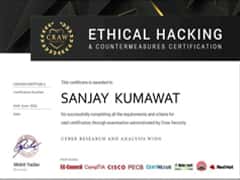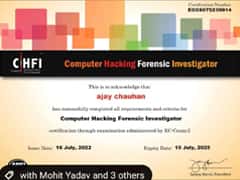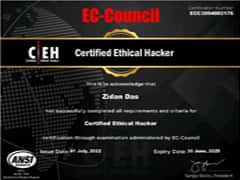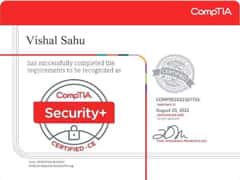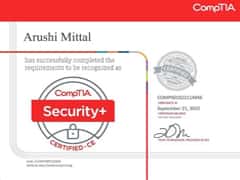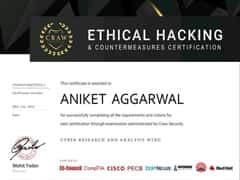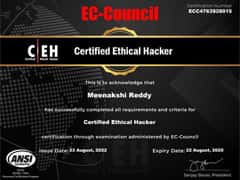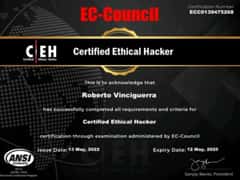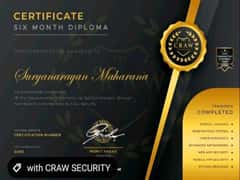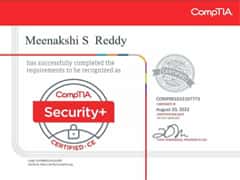 What People Are Saying About Craw Security






Cisco CCNA Frequently Asked Questions
It is a good as well as very beneficial course when you do the CCNA Training in Delhi from a credible institute like Craw Cyber Security Institute.  Anybody who wants to start a career in the IT industry, Computer Networking, Cyber Security, and other corresponding domain can choose this course as it possesses all the needful beginners' information in the curriculum.
Can CCNA course be done online?
Yes, you can surely do the CCNA Training in Delhi from our fully CISCO accredited institute Craw Cyber Security Institution through an online mode of conduction from any remote location to study the basics of this course.
Is CCNA difficult to pass?
The course is indeed hard to study if you do not have at least 8 hours in a day to study hard for passing the exam.  One should not study only to pass the exam but to thrive in the domain in order to gain expertise and skills for getting placed in a nice authentic company.
Is CCNA harder than CompTIA Network+?
Yes, the CCNA course is genuinely harder than the CompTIA Network+ certification course since carries a routing and switching-related curriculum in it.  Whether it is considered to be a beginner-level course yet most researchers take it as more challenging than CompTIA Network+ certification.
How much does CCNA training cost?
Craw Cyber Security Institute will let you do this CCNA Training in Delhi via online mode for only ₹2,999/- + taxes.  Join now for a valuable change in your curriculum vitae.
Can I pass CCNA with self-study?
Every mind is different from another.  One cannot comment on the caliber of one person in a single tone.  If you think that you can learn things easily via online mode then this course CCNA Training in Delhi via our hot and happening institute Craw Cyber Security Institution is the best choice for you.
How do I get Cisco certified?
You can easily get the CISCO certification by passing the CISCO Certification Exam after duly studying the course curriculum provided by our authorized institute – Craw Cyber Security Institute.  You may purchase our CCNA Course Online from our official website and get the process going. 
How many hours should I study for CCNA?
Anyone willing to study the CCNA Course Online has to study at least 8 hours a day excluding the time you watch the course curriculum videos for studying.
Which CCNA course is best?
You can do CISCO CCNA Course in Delhi (200-301) via online mode, through Craw Cyber Security Institute, which is a very genuine and authentic course to study the basics of Networking Administration. 
What is CCNA salary India?
According to an independent organization – Glassdoor, the highest salary recorded so far for a CCNA Networking Executive is around ₹4,00,260/- per year.
List of Companies you can get placements in
| Company Name | Contact Person | E- Mail | Contact Number | Course Name |
| --- | --- | --- | --- | --- |
| Deep Logictech India Pvt Ltd | Nidhi | hr4@deeplogictech.com | +011-45453628 | Ethical Hacker |
| British Telecom | Binit Rai | binit.rai@bt.com | +91-7595920106 | Cyber Security Professional |
| Fastandfurious Consulting | Niharika Sharma | hr2@fastandfuriousconsulting.com | +91-9990291119 | Networking |
| Parahit Technologies Ltd. | Pooja Thakur | ptlhr@parahittech.com | +91-9149292929 | Technical Support Engineer(CCNA) |
| Trigent Software Limited | Hafsaa Sait | hafsaa_m@trigent.com | +91-9886970024 | L1 Technical Support Engineer |
| Shriv ComMedia Solutions Pvt. Ltd. | Aarti Singh | aarti@commediait.com | +91-9910967277 | Software Developer |
| HCL Technology | Anamika | hr@evisions.co.in | +91 9811722023 | Network Administration, Security |
| BreachLock | BreachLock | hello@breachlock.com | +1 917-779-0009 | Penetration Tester with Python Development |
| Right Step Consulting | Right Step Consulting | resume@rightstepconsulting.com | +0120-429 1013 | Network Administrator |
| ACE IT Solutions | ACE IT Solutions | Info@aceits.net | +646-558-5575 | Junior Cyber Security Analyst |
| Limpidstone Technology Pvt. Ltd | Manisha Saini | info@limpidstone.com | +91 7840060051 | CEH |
| Indian Institute of Management and Development | IMMD Placement | info@iimdindia.com | +020 - 6500 1155 | L 1 Engineer |
| Indian Institute of Management and Development | IMMD Placement | career@vsure.in | +91 9354061269 | Network Administrator |
| Indian Institute of Management and Development | IMMD Placement | career@vsure.in | +91 9354061269 | L 2 Engineer |
| Indian Institute of Management and Development | IMMD Placement | career@vsure.in | +91 9354061269 | Accounts Executive |
| Three D Integrated Solutions Ltd | Uma Verma | uma.verma@threeds.com | +91 874507070 | Certified Ethical Hacker (CEH v11) |
| IARM Information Security Pvt Ltd | Sridhar | sridhar@iarminfo.com | +91 9361906659 | C|EH v11 |
| IARM Information Security Pvt Ltd | Sridhar | sridhar@iarminfo.com | +91 9361906659 | SOC Analyst |
| LINC Education Services | Avani Raghuvansi | avani@linceducation.com | +91 7045577921 | Cyber Security |
| Mekdam Technical Services | Abdul Saiyad Khan | a.syed@mekdamholding.com | +91 9908403117 | Scada Security |
| Precise Testing Solution Pvt Ltd | Sonali Sharma | hr@precisetestingsolution.com | 0120 - 45555590 | EC-Council |
| RDX | Navisite Pvt Ltd | Naveen Kumar | nkumar@rdx.com | +91 7411602488 | Sr. Consultant |
| Aujas Technology Pvt Ltd | Pankaj Badera | pankaj.badera@aujas.com | +91 7696506250 | Sr. Consultant |
| Tetra Information Services Pvt. Ltd. | Mitali | mitali@tetrain.com | +91 7024125214 | Linux |
| Orbit India | Pragati Choudhary | hr.orbit@orbitindia.net | 011 - 49141500 | CCNA |
| Percoyo Pvt Ltd | Dorai Raj | hr@percoyo.com | +91 8660333455 | Stack Developer |
| AAITPro | Kartik Beemsingh | kartib@aaitpro.com | +91 9789905286 | CCNA |
| Experis | Nidhi | nidhi.sharma@in.experis.com | +91 9810182383 | SAP |
| Seek Your Job | Kumara | cv@seekyourjob.com | +91 9443455374 | Web Development |
| Art Kart | Anil Pakhare | art.kart00@gmail.com | +91 9082452620 | Android |
| Ideas2it | Dhanasekar | dhanasekar@ideas2it.com | +91 8681059189 | Software Testing |