Red Hat Training and Certification Offers
November 14, 2022
2023-02-11 13:36
Red Hat Training and Certification Offers
Best RHCSA Training Plus Certification Course in India
Future Linux Administrators! Craw Security is offering the Best RHCSA Course in India for the domain of System Administrators with the support of Professionals that has been practicing in the field of System Administrators for a long time. The Red Hat Certified Linux Administrator Certification and Training Course are specially arranged for aspirants to catch the follow-ups in the Administration Background with the latest techniques and tools under the guidance of Professionals. This Course is highly designed for you to learn operating and managing some of the most used Linux Services and to Perform tasks. Let's Continue!
Book a Trial Demo Class
Training Available 24*7 Call at +91 9513805401
Best RHCSA Training Plus Certification Course in India
A better chance to get introduction to a career based course is available for you now. Craw Security is offering RHCSA Training and Certification in a very budget-friendly amount which is ₹19,999. This course is highly customized to offer the best training to the aspirants of System Administration of Linux. Under the guidance of professional Red Hat Trainers, you'll find it easy to learn all of the methods and would be able to perform the professional administrator's tasks within seconds. Don't miss the chance for this specially optimized course and sign up asap! Contact Craw!
Red Hat Certified System Administrator (RHCSA) Training in Delhi Course Content
Module 01 : About RHCSA
Module 02 : Getting Started with Red Hat Enterprise Linux
Module 03 : Accessing the Command Line
Module 04 : Managing Files from the command Line
Module 05 : Getting Help in Red Hat Enterprise Linux
Module 06 : Creating, Viewing, and Editing Test Files
Module 07 : Managing Local Users and Groups
Module 08 : Controlling Access to Files
Module 09 : Monitoring and Managing Linux Process
Module 10 : Controlling Services and Daemons
Module 11 : Configuring and Securing SSH
Module 12 : Analyzing and Storing Logs
Module 13 : Managing Networking
Module 14 : Archiving and Transferring Files
Module 15 : Installing and Updating Software Packages
Module 16 : Accessing Red Hat Linux File System
Module 17 : Analyzing Servers and Getting Support
Module 18 : SA2- Improving Command-line Productivity
Module 19 : Scheduling Future Tasks
Module 20 : Tuning System Performance
Module 21 : Controlling Access to Files with ACLs
Module 22 : Managing SELinux Security
Module 23 : Managing Basic Storage
Module 24 : Managing Logical Volumes
Module 25 : Implementing Advanced Storage Features
Module 26 : Accessing Network-Attached Storage
Module 27 : Controlling the Boot Process
Module 28 : Managing Network Security
Module 29 : Installing Red Hat Enterprise Linux
Module 30 : SA2 – Comprehensive Review (Recall Session)
Red Hat Certified Architect Our Course Advisor
Choose Your Preferred Learning Mode

We offer customized VILT (Virtual Instructor-Led Training) sessions at your convenient hours to provide effortless training.

One can also opt for the prerecorded video sessions available at any point of time from any particular location.

Hire a preferred trainer at your work premises at your chosen time slots and train your employees with full efficiency.
Craw Security's Students Awarded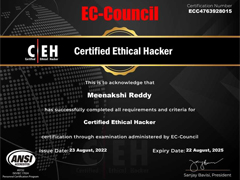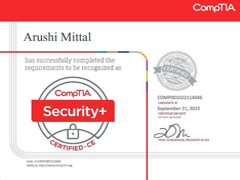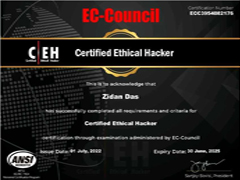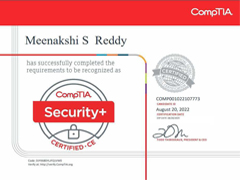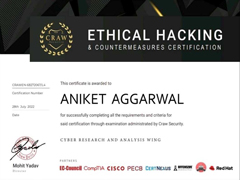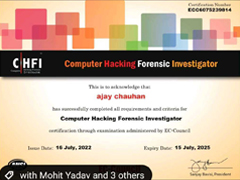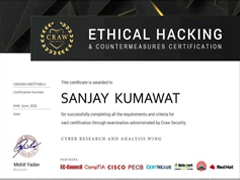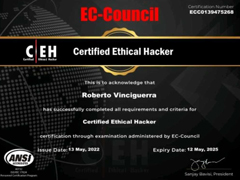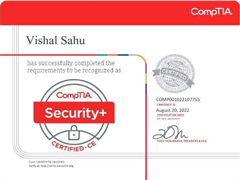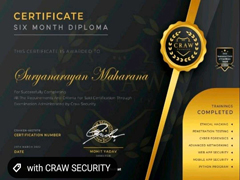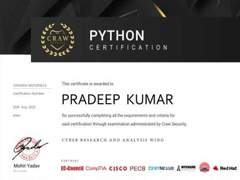 Related Cyber Security Course
What People Are Saying About Craw Security






Red Hat Certified Architect Frequently Asked Questions
RHCSA is an acronym for Red Hat Certified System Administrator, which is an entry-level certification course that is based on the various aspects of system administration, including the installation and configuration of a Red Hat Enterprise Linux system.
Yes, the RHCSA exam is tough in comparison to some streams of Arts and Humanities, although it is far easier than the various streamlines of Science, Medical, and Engineering.  However, no exam is hard for the person who is willing to study hard and devote an appropriate amount of time to studies in a single day frame.
If you are interested in this course, then do not hesitate to enroll now with the Best RHCSA Course in Delhi that offers you a curriculum through highly experienced and genuine faculty members who possess years of industrial expertise.
What is the salary of a Red Hat Certified Engineer?
According to GlassDoor - an independent organization to track salaries of varied posts and positions of diverse trades in the marketplace, the average annual salary that has been captured by Linux Systems Administrator in India is around ₹4,70,500/- while a Senior Personnel in Linux Systems Administration can grab up to ₹8,32,637/- per annum.
Yes, not only the Best RHCSA Course in Delhi, all the other Red Hat Certifications expire after a time period of consecutive 3 years from the date of issuing of the concerning certificate.  After the aforementioned period, one has to recertify oneself by duly sitting in the examination once again for the process termed recertification. 
Headquartered in Raleigh, North Carolina, USA, Red Hat Inc. is basically a North American Software MNC that offers open-source software products to companies.  Now, it became a subsidiary of IBM on July 9, 2019.
Is Linux a good career choice?
Linus Essentials is certainly a good career choice for persons who have a keen interest in system administration.  Most of the hiring executives and managers are searching for good Linux professionals having valid certifications in hand from well-established and recognized institutions from various reputed organizations.
Can I get a job with RHCSA?
This thing is totally dependent upon the chances and opportunities that one could get from the market or anyone who already has any personal recommendation in any organization dealing with Linux Administration.
In addition, one thing is confirmed: "hard work never goes in vain."  I.e., if someone is paying pretty good attention to one's studies, then nothing is impossible.  It is likely to be that the same would get a place with an entry-level salary in any reputed organization functioning nicely in system administration.
What is the duration of the RHCSA Exam?
The exam is widely known as EX200 for passing the Best RHCSA Course in Delhi, in which the duration is around two and a half hours. I.e., 150 MINUTES to solve the question paper.
The exam (EX200) is taken to validate the skills, expertise, and knowledge that a student has gathered during the Best RHCSA Course in Delhi is widely known as RHCSA Exam.
Yes, it is true that RHCE renews the RHCSA since RHCSA can be held for real in the below-mentioned three ways: 
One can nicely sit for the recertification by again undergoing RHCSA Exam.
Instead of that, one could go for the RHCE Certification Exam, which is EX294, with the hold of current RHCSA Certification.
One can also maintain the RHCSA by passing any of the exams that an RHCE can apply, such as RHCA (Red Hat Certified Architect).
Which is better Rhcsa or RHCE?
There is no comparison between these two certifications of RHCSA and RHCE as RHCSA Certification is an entry-level certification that possesses basic knowledge of Linux administration while RHCA holds a vast amount of knowledge regarding Linux Administration.
In addition, if someone wants to pursue RHCA certification, one must hold a valid RHCSA Certification to be eligible for sitting in the training and examination related to it.
Yes, the Red Hat RHEL v9.0 has generally been made available for the public after its official launch, dated 17th May 2022, which was officially announced at a Red Hat Summit held on May 10, 2022.  In this version, the system represents a Linux Kernel 5.14.0 and Gnome 40.
What is the current RHEL version?
With the worldwide launch on 17th May 2022, Red Hat Enterprise Linux RHEL v9.0 is the latest and current version in the Red Hat series.  The people who are thinking about joining this authentic course of Red Hat RHCSA will be able to learn this course on this updated version from now on.
In the same context, Craw Security, the Best Linux Institute in Delhi NCR, is offering its world-class Red Hat RHCSA Training in Delhi under the guidance of international-standard training instructors with years of proven experience in the domain.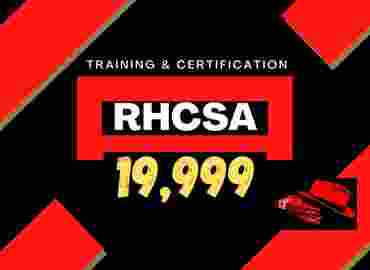 Red Hat Certified Architect | Red Hat Open Stack
** Limited seats available**
Call Now +91 951 380 5401