Python Crash Course in Delhi 2023 | Python Training Institute
July 2, 2021
2023-04-30 15:07
Python Crash Course in Delhi 2023 | Python Training Institute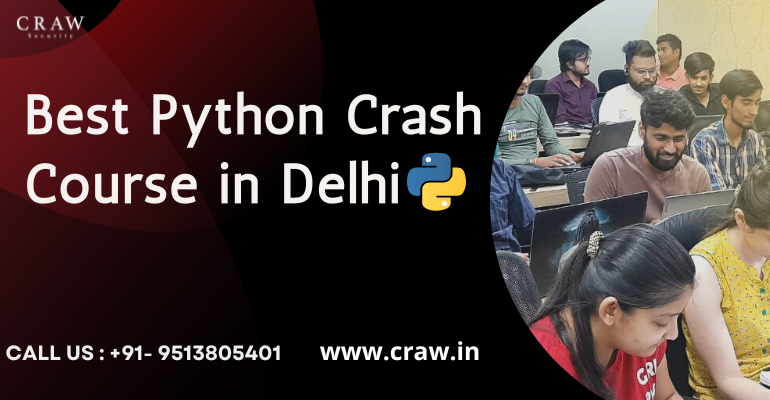 Python Crash Course in Delhi 2023 | Python Training Institute
Being the best programming language in the world that the global market has seen so far, the developers of Python Programming Language have been evolving or developing this multipurpose programming language used in various industries as well as interfaces.  Apprehending a fully-fledged Python Crash Course through a dedicated methodology prescribed in a genuine curriculum imparted under the guidance of a highly experienced and skilled trainer with 10+ years of industry experience can be a game-changer step.
In this blog, we will read about the primary changes that this magnificent programming language has brought to the world and share a keen sense of understanding with developers dispersed worldwide, sharing their part in many manners to this prominent Python Programming language.
Python Crash Course by Craw Security
The highly famous cyber security institution of Craw Security is offering a highly sensible Introduction to Python Course along with all the fundamental concepts.  Craw Cyber Security Institution has both a time-taking 40 hours of Python Programming Course as better as a Python Crash Course for Beginners that possess all the needful fundamentals of Python Programming Language to impart quality education among the students who are desperately seeking some proper guidance in a sincere Python Crash Course.
Moreover, at Craw Security, we are delivering Python Crash Course in almost every version of this majestic programming language in the version of Python programming language.  You may sincerely be imparting quality Python Crash Course Latest Edition, which is the Python Crash Course, 3rd Edition, under the observation of highly experienced trainers having 10+ years of industry experience.
Further, we have updated our course version to the latest edition from Python Crash Course, 2nd Edition which is the 3rd Edition lastly updated on 6th June 2022 to Python v3.10.5.
Python Course Online
We are very pleased to announce that there are certain provisions for imparting quality education related to learning Python Online, even for the Python Crash Course as well.  In addition, you may go through the Python Crash Course with Certificate by learning this high-end course with self-mode at any favorable location of your choice through the VILT (Virtual Instructor-Led Training) mode of class conduction.
The wishful persons who are thinking to switch into the genre of any Information Technology or Information Security along with the help of Python Programming Language can certainly join this magnificent Python Crash Course for Beginners by Craw Cyber Security Institute at Delhi's Saket and Laxmi Nagar locations.
Python Crash Course Near Me
There are several Python Crash Courses Near Me in the numerous locations of Delhi NCR. However, the quality of the Python Training Institute offers the best-in-class Python Crash Courses.  Further, we would like to invite all eligible students to come forth and join our premium category Python Crash Course classes in both offline and online methods of class conduction.
However, people who are pretty much passionate about learning Python online can also enroll in our prominent Python Crash Course for Beginners in the prominent online version.
Frequently Asked Questions
About Python Crash Course in Delhi 2023
1: Is a crash course on Python worth it?
Yes, you can sincerely learn the highly knowledgeable Python Crash Course by Craw Cyber Security Institution under the observation of primetime training faculty members offering a good source of educational content duly related to the Python Programming Course on the latest 3rd edition of Python.
2: Can I learn Python in 2 weeks?
Yes, you may.  With the help of an expert trainer having at least 7+ years of industry-oriented experience in professionally working on Python Programming Language, you can learn Python in 2 weeks.  Moreover, you can enroll in the Python Crash Course for Beginners through the high-end cyber security institution of Craw Security.
3: How long does it take to finish the Python crash course?
We have the most flexible timings as per the requirements of our students for offering a highly knowledge-based Python Crash Course which can be taken in two time periods such as the following:
4: How much does Python training cost?
The Python Crash Course training is very much low in Craw Security as compared to the other institutions in Delhi NCR.  If you are highly interested in learning the Python Crash Course under the observation of good Python trainers, you may ask for the best price for you by calling on +91-9513805401 and having a word with our knowledgeable educational counselors.
5: Which course is best for Python learning?
The very knowledge is possessing Python Crash Course by Craw Security in Saket and Laxmi Nagar branches in Delhi.
6: Which Python course is best in India?
The Online Python Crash Course for Beginners is the best you can get in a course imparting quality Python training.
7: How many years is a Python course?
The regular Python Course from the House of Craw Security is around 60 hours of quality training.
8: What is a qualification for Python?
You just need to have a 12th class passed certificate from a recognized board in order to seek enrollment in Python Course for Beginners as well as in the Python Crash Course.
Wrapping Up
So far, we have elaborated on the main crunches required for offering a quality Python Crash Course in Delhi 2023.  Moreover, once more, we would like to offer you the very genuine Python Crash Course for Beginners to learn high-end Python Crash Course on the latest edition, which is the 3rd edition of the series.  If you also wish to indulge in the various fundamentals of the Python Crash Course, you may give a call at +91-9513805401.