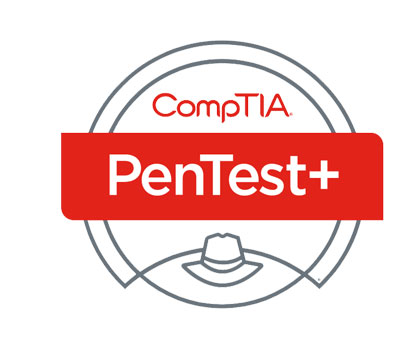 CompTIA Pentest+ plus Certification Exam Voucher in Delhi
₹40,000.00
The new PenTest+ (PT0-002) exam will launch in October 2021
The CompTIA PenTest+ certification verifies that successful candidates have the knowledge and skills required to plan and scope an assessment, understand legal and compliance requirements, perform vulnerability scanning and penetration testing, analyze data, and effectively report and communicate results.
The CompTIA PenTest+ will certify the successful candidate has the knowledge and skills required to plan and scope a penetration testing engagement including vulnerability scanning, understand legal and compliance requirements, analyze results, and produce a written report with remediation techniques.
Description
CompTIA Pentest+ plus Certification Exam Voucher in Delhi
CompTIA PenTest+ is the only penetration testing exam taken at a Pearson VUE testing center with both hands-on, performance-based questions and multiple-choice, to ensure each candidate possesses the skills, knowledge, and ability to perform tasks on systems. PenTest+ exam also includes management skills used to plan, scope, and manage weaknesses, not just exploit them.
PenTest+ is unique because our certification requires a candidate to demonstrate the hands-on ability and knowledge to test devices in new environments such as the cloud and mobile, in addition to traditional desktops and servers.
CompTIA Pentest+ PT0-001 and PT0-002 Exam Voucher Details
Number of Questions: Maximum of 85 questions
Type of Questions: Performance-based and multiple choice
Length of Test: 165 minutes
Passing score: 750 (on a scale of 100-900)
Recommended Experience: Network+, Security+ or equivalent knowledge. Minimum of 3-4 years of hands-on information security or related experience. While there is no required prerequisite, PenTest+ is intended to follow CompTIA Security+ or equivalent experience and has a technical, hands-on focus.
Languages: English
Price: $370 USD
CompTIA Pentest+ Plus PT0-001 and PT0-002 Renewal Certification
Keep your certification up to date with CompTIA's Continuing Education (CE) program. It's designed to be a continued validation of your expertise and a tool to expand your skillset. It's also the ace up your sleeve when you're ready to take the next step in your career.
Information technology is an incredibly dynamic field, creating new opportunities and challenges every day. Participating in our Continuing Education program will enable you to stay current with new and evolving technologies and remain a sought-after IT and security expert.
Your CompTIA PenTest+ certification is good for three years from the date of your exam. The CE program allows you to extend your certification in three-year intervals through activities and training that relate to the content of your certification.
You can participate in a number of activities and training programs, including higher certifications, to renew your CompTIA PenTest+ certification. Collect at least 60 Continuing Education Units (CEUs) in three years and upload them to your certification account, and your CompTIA PenTest+ certification will automatically renew.