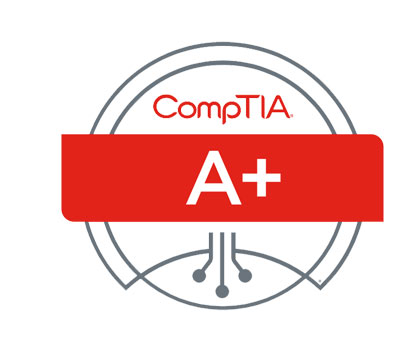 CompTIA A+ plus Certification Exam Voucher in Delhi
₹30,000.00
CompTIA A+ 220-1001 covers mobile devices, networking technology, hardware, virtualization, and cloud computing, and network troubleshooting. CompTIA A+ 220-1002 covers installing and configuring operating systems, expanded security, software troubleshooting, and operational procedures.
Candidates must complete both 1001 and 1002 to earn certification. Exams cannot be combined across the series.
Number of Questions: Maximum of 90 questions
Type of Questions: Multiple choice questions (single and multiple response), drag and drops and performance-based
Length of Test:90 Minutes per exam
Passing score: 220-1001: 675 (on a scale of 100-900) | 220-1002: 700 (on a scale of 100-900)
Recommended Experience: 9 to 12 months of hands-on experience in the lab or field
Languages: English
Price: $232 USD
Description
CompTIA A+ plus Certification Exam Voucher in Delhi
CompTIA A+ certified professionals are proven, problem solvers. They support today's core technologies from security to cloud to data management and more. CompTIA A+ is the industry standard for launching IT careers into today's digital world.
The only credential with performance-based items to prove pros can think on their feet to perform critical IT support tasks at the moment
Trusted by employers around the world to identify the go-to person in endpoint management & technical support roles
Regularly re-invented by IT experts to ensure that it validates core skills and abilities demanded in the workplace
The CompTIA A+ Core Series requires candidates to pass two exams: Core 1 (220-1001) and Core 2 (220-1002) covering the following new content:
Demonstrate baseline security skills for IT support professionals
Configure device operating systems, including Windows, Mac, Linux, Chrome OS, Android, and iOS, and administer client-based as well as cloud-based (SaaS) software
Troubleshoot and problem solve core service and support challenges while applying best practices for documentation, change management, and scripting
Support basic IT infrastructure and networking
Configure and support PC, mobile, and IoT device hardware
Implement basic data backup and recovery methods and apply data storage and management best practices
CompTia A+ Renewal Certification
Keep your certification up to date with CompTIA's Continuing Education (CE) program. It's designed to be a continued validation of your expertise and a tool to expand your skillset. It's also the ace up your sleeve when you're ready to take the next step in your career.
Information technology is an incredibly dynamic field, creating new opportunities and challenges every day. Participating in our Continuing Education program will enable you to stay current with new and evolving technologies and remain a sought-after IT expert.
Your CompTIA A+ certification is good for three years from the day of your exam. The CE program allows you to extend your certification in three-year intervals through activities and training that relate to the content of your certification. Like A+ itself, CompTIA A+ also carries globally-recognized ISO/ANSI accreditation status.
You can participate in a number of activities and training programs, including higher certifications, to renew your CompTIA A+ certification. Complete CertMaster CE, an online, self-paced CE course, or collect at least 20 Continuing Education Units (CEUs) in three years, upload them to your certification account, and A+ will automatically renew.